Almost seven years to the day since it began, we're about to give a royal wave of farewell to Netflix drama The Crown, but series six might be its most eye-opening yet, as its first part (out on November 16) deals with the events surrounding the tragic death of Princess Diana.
Some critics' hackles might be up already after the show previously attracted condemnation for historical inaccuracies, so it will be especially interesting to see how the show covers such an emotive and important event in royal history, and just where the story ends when the final episodes are released on 14th December.
Even so, many fans will be disappointed not to see more recent events get The Crown treatment, like that Prince Andrew interview and Harry and Meghan's very public royal uncoupling, but is it so far beyond the realms of possibility that the show might have a revival in a few decades time…? After all, there's already talk of a prequel.
For now, here are the new cast members arriving for series six, and which familiar faces you'll see returning too:
NEW CAST – PART ONE
Rufus Kampa as young Prince William and Fflyn Edwards as young Prince Harry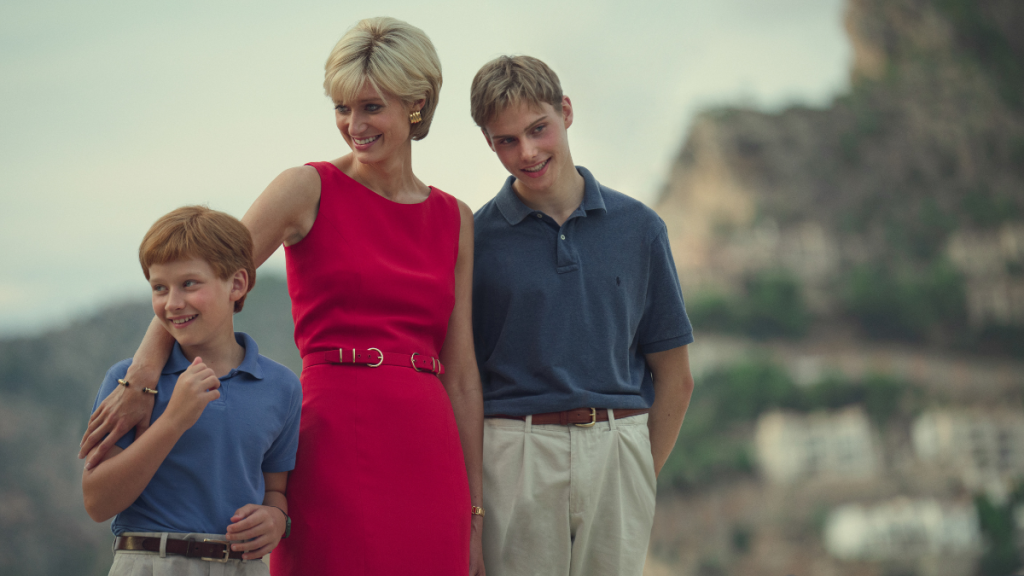 Kampa and Edwards will respectively portray a 15-year-old Prince William and 12-year-old Prince Harry in 1997, tracking their relationship with their parents in the lead-up to Princess Diana's fatal car crash in August of that year, as well as the aftermath, including the unforgettable moment they both walked behind their mother's coffin in the funeral procession.
Impressively, it's Kampa's on-screen debut, and you might recognise Edwards from Shadow and Bone and 1899.
Enzo Cilenti as Mario Brenna
Brenna is the hotshot celebrity photographer responsible for the infamous shots of Diana and Dodi kissing on their yacht in the summer they spent hounded by paparazzi before their death.
You might recognise Cilenti from US drama The Serpent Queen, as Jeremy Lake in Luther, Rivette in the BBC Les Miserables series, Childermass in fantasy Jonathan Strange and Mr Norrell, or more recently from Netflix movie Heart of Stone.
Forbes Masson as Duncan Muir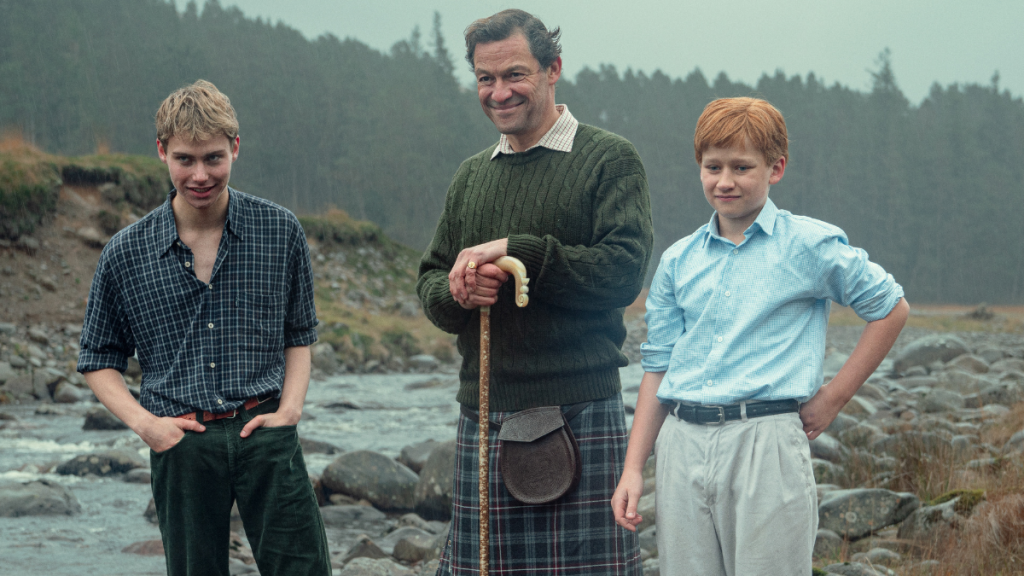 Muir is a fictionalised version of the passionately loyal royal photographer who was commissioned to create the famous photoshoot – recreated in the image above – of Prince Charles with Princes William and Harry in the grounds of Balmoral in early August 1997 (which was actually taken by photographer Tim Graham).
Masson was in a comedy double act with Alan Cumming (The Good Wife) before they created sitcom The High Life – more recently he's had roles in Catastrophe and Irvine Welsh's ITV drama Crime.
NEW CAST – PART TWO
Luther Ford as older Prince Harry
When The Crown returns for Part Two of series six in December, they'll be jumping forward in time several years, and Luther Ford will depict Prince Harry as a young adult, covering some of his more rebellious years.
This is Ford's first TV role. 
Ed McVey as older Prince William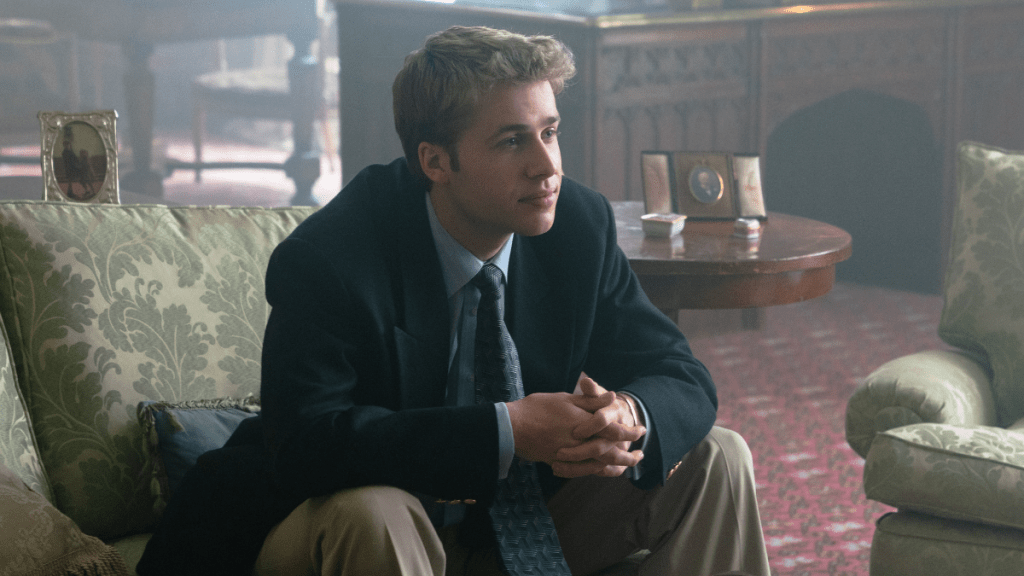 McVey will portray Prince William as a young man, including his time as a student at the University of Saint Andrews, where he meets and begins a romance with his future wife Kate Middleton.
This role is McVey's acting debut.
Meg Bellamy as Kate Middleton
Bellamy will portray the now Princess Kate of Wales back when she was an ordinary university student from a regular family, telling the story of her flourishing romance with Prince William and their first forays into the public eye.
This will be Bellamy's first on-screen role.
Matilda Broadbridge as Pippa Middleton
Broadbridge plays Kate's younger sister, Pippa, who became a household name after appearing at William and Kate's wedding. In The Crown, however, she's still just Kate's teenage confidante as she begins her high-profile romance.
This is Broadbridge's first major TV role.
OTHER NEW CAST MEMBERS
Also joining the cast are Amira Ghazalla (The Baby) as Salma, Mohamed Al-Fayed's secretary at the time of his son's death, Ben Lambert (Harlots) as his Head of Security Ben Murrell, Lee Otway (Hollyoaks) as his bodyguard Kez Wingfield and Paul Gorostidi (War of the Worlds) as chauffeur Philippe Dourneau.
Adam Best (The Lazarus Project) and Jamie Baughan (EastEnders) play journalists Nick and Gordon who followed Princess Diana in the months leading to her death, and Yoann Blanc (The Break) is Henri Paul, The Ritz's chauffeur who was driving Princess Diana and Dodi Al-Fayed at the time of their fatal car crash and also died. Philippe Spall (Downton Abbey) is the Parisian dog walker who witnessed the crash and called the emergency services.
Sebastian Blunt (Jack Ryan) will play Prince Edward.
RETURNING CAST
This is the second series for The Royal Family's third line-up, with Imelda Staunton (Vera Drake) as Queen Elizabeth II and Jonathan Pryce (Pirates of the Caribbean) as Prince Phillip, Dominic West (SAS: Rogue Heroes) as Prince Charles and Lesley Manville (Mrs Harris Goes To Paris) as Princess Margaret. Elizabeth Debicki (The Great Gatsby) reprises her role as Princess Diana, Olivia Williams (Emma) is Camilla Parker-Bowles and Claudia Harrison (The Cat's Meow) returns as Princess Anne. 
Khalid Abdalla (The Kite Runner) is back as Dodi Al-Fayed, as is Salim Daw (Oslo) as his father, Mohammed Al-Fayed. Bertie Carvel (Doctor Foster) is back as Prime Minister Tony Blair and Lydia Leonard (Last Christmas) plays his wife Cherie Blair.
Ben Lloyd-Hughes (Me Before You) and Alex Blake (Andor) also return as Prince Charles' PR adviser and private secretary Mark Bolland and Stephen Lamport.
Part one of The Crown series six arrives on Netflix on 16th November 2023, with Part Two following on 14th December 2023