Chucky, the upcoming spinoff series of the venerable Child's Play horror franchise, is set to bring the terror of a homicidal, serial-killer-spirit-inhabited doll to a new medium and a new generation. However, don't you dare call it a "reboot," since the series, like the film franchise, remains the mutilating manifestation of creator Don Mancini, who is unambiguously touting the television show as a continuation of his cinematic continuity. Moreover, the creator reveals that plans for even more films—in conjunction with the show—are also in the works. In other words, brace yourselves for the Chucky Universe!
"An evil too great to play on just one network," reads the tagline in the new teaser trailer for Chucky, which hypes a series designed for a deluge of doll-dealt deaths, set for a dual network run—under the NBCUniversal umbrella—this fall on USA Network and Syfy. Surprisingly enough, Mancini openly expresses, in an interview with EW, that said evil might even be too great to play on just one medium, since the creator is already envisioning a multimedia continuity centered around his terrifying toy with the complementary continuation of the Child's Play mythology.
"We have plans to do that [more movies], whether in lieu of additional seasons of the series, or in tandem with [them], potentially," reveals Mancini. "We're creating a broader Chucky universe with the TV series that now could span over different media." Of course, the Child's Play franchise is also, technically, a multiverse, since audiences were recently treated to the 2019 reboot feature of the same name, which was a modernized reinterpretation of the original 1988 film, in which Mark Hamill voiced a more tech-imbued version of the killer doll. However, plans were already in the works for Mancini's classic-minded television revival—featuring the signature cackle of original voice actor Brad Dourif—even before that film flopped at the box office. Thus, fans of the classic configuration of the supernatural slasher franchise will be delighted to see that Chucky directly adheres to the events of the seven existing films, Child's Play (1988), Child's Play 2 (1990), Child's Play 3 (1991), Bride of Chucky (1998), Seed of Chucky (2004), Curse of Chucky (2013) and even recent offering Cult of Chucky (2017).
"One of the things that we pride ourselves on, and I think makes our franchise singular, is that we have spun a relatively consistent and coherent narrative over the course of 33 years and seven films and now eight episodes of television," explains Mancini. "I think that's one of the things that our fans like about the Chucky franchise. I deliberately ended Cult of Chucky on a series of cliffhangers, major cliffhangers, because I knew a TV series would be the ideal place to accommodate delving into the ramifications. So, we begin the series introducing our new story, our new milieu, and then we start to bring the veteran characters into the story, and it all comes together for a big showdown."
Indeed, Cult of Chucky left characters in a confusing, vessel-swapped state, with multiple soul-manifested "Good Guys" brand Chucky dolls introduced. The 2017 film might have also signaled writer/director Mancini's Marvel-esque shared-universe ambitions, having ended with a post-credits scene that left Chucky in a cliffhanger situation, stuck as a severed head and on the receiving end of long-deserved retribution on behalf of the perpetually-embattled Andy Barclay (Alex Vincent) by foster sister Kyle (Christine Elise). Consequently, the footage on display in the latest Chucky teaser somehow reflects the aftermath of those events.
Soon, Chucky's evil ire will be transferred to a 14-year-old gay boy named Jake Webber (Zackary Arthur), who takes his mind off being bullied and mourning the recent death of his mother by creating sculptures with doll parts. Unfortunately for young Jake, a prime pickup of an old Good Guys doll at a garage sale will set his life on a potentially fatal course. Interestingly, Mancini's protagonist choice reflects his eventually-altered plan to revisit the early dynamic of Chucky terrorizing a young child, whose claims about a homicidal doll are never believed by obstinate adults. "One of the things I wanted to do was bring [the franchise] back to its Child's Play roots and have the protagonists [be] kids," he says. "But since, with the first couple of movies, we'd already delved into having little kids I wanted to explore something different, so this time we're exploring young teenagers."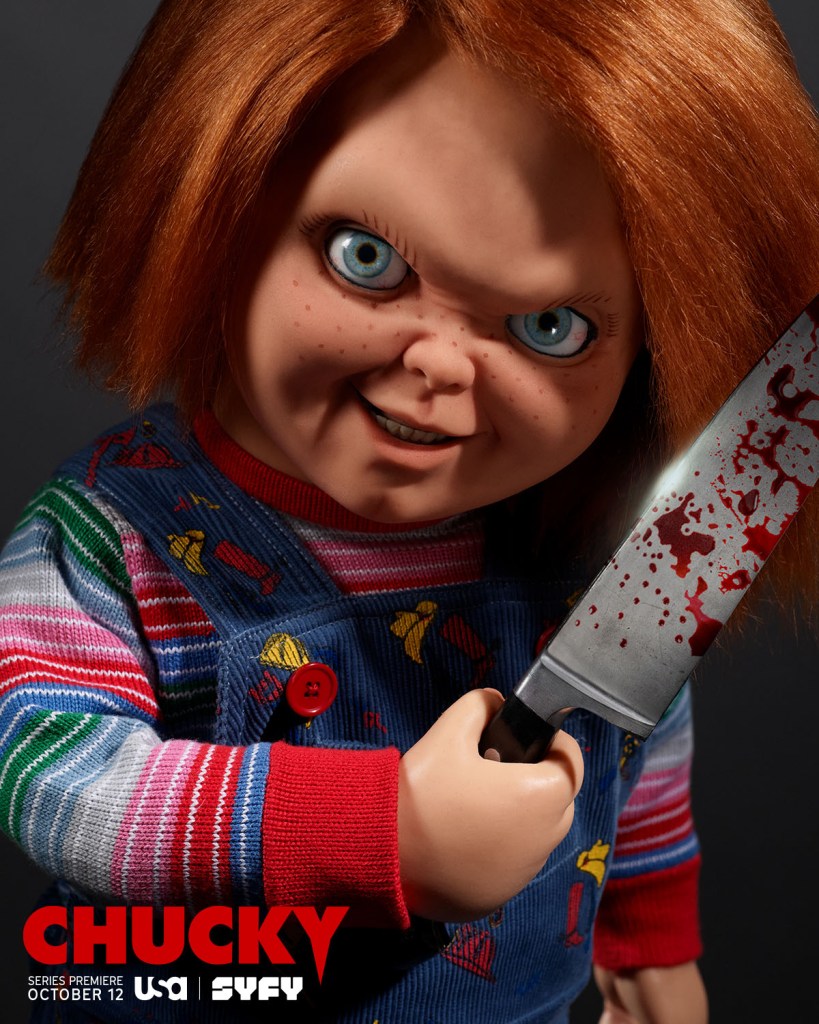 As the just-released official poster (seen just above) makes clear, Chucky comes into the series rocking the classic Child's Play 2-styled appearance, which Mancini says is the consensus look of choice by the fans. Yet, not one to be stuck in the past, he'll expand his homicidal horizons, bringing an updated arsenal with which to torment the teens, and will apparently even cross over into their native realm of social media to stalk them. Moreover, the series will showcase the deepest exploration yet of Chucky's pre-doll past, showcasing some childhood moments of eventual serial killer Charles Lee Ray, with last year's official copy describing young Charles as "a seemingly ordinary child who somehow became this notorious monster." These facets of Chucky's character not only set up potential pathos for the character—deserved or not—but also helps narratively broaden the "broader Chucky universe" that Mancini is attempting to construct. Whether or not the killer-doll concept is applicable to such lofty designs remains to be seen, at least upon the arrival of the TV series.
Chucky, is set to premiere is 10-episode inaugural season USA and Syfy on Tuesday, October 12.