From space opera to near future speculation, science fiction brings us futures beautiful and frightening. Take a look at our top picks for the best new science fiction books to read in June 2021 …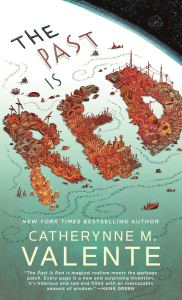 The Past Is Red by Catherynne M. Valente
Type: Novel
Publisher: Tordotcom
Release date: July 20
Den of Geek says: Valente turns her finely-wrought prose to a climate change apocalypse in what is sure to be an inventive take on a water world.
Publisher's summary: The future is blue. Endless blue…except for a few small places that float across the hot, drowned world left behind by long-gone fossil fuel-guzzlers. One of those patches is a magical place called Garbagetown.
Tetley Abednego is the most beloved girl in Garbagetown, but she's the only one who knows it. She's the only one who knows a lot of things: that Garbagetown is the most wonderful place in the world, that it's full of hope, that you can love someone and 66% hate them all at the same time.
But Earth is a terrible mess, hope is a fragile thing, and a lot of people are very angry with her. Then Tetley discovers a new friend, a terrible secret, and more to her world than she ever expected.
Buy The Past Is Red by Catherynne M. Valente.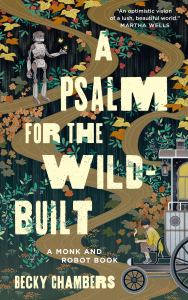 A Psalm for the Wild-Built by Becky Chambers
Type: Novel
Publisher: Tordotcom
Release date: July 13
Den of Geek says: Chambers' Wayfarers series is the pinnacle of "soft" science fiction in the sense that it sets out to be unflappably kind while also building a universe of sometimes-warring humans and aliens. Now she shifts to a different setting with a similar tone and careful attention to the soil that lets the human heart bloom.
Publisher's summary: It's been centuries since the robots of Panga gained self-awareness and laid down their tools; centuries since they wandered, en masse, into the wilderness, never to be seen again; centuries since they faded into myth and urban legend.
One day, the life of a tea monk is upended by the arrival of a robot, there to honor the old promise of checking in. The robot cannot go back until the question of "what do people need?" is answered. 
But the answer to that question depends on who you ask, and how.
A Psalm for the Wild-Built by Becky Chambers.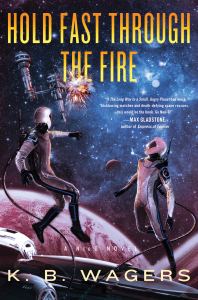 Hold Fast Through the Fire by K.B. Wagers
Type: Novel
Publisher: Harper Voyager
Release date: July 27
Den of Geek says: Wagers puts a spin on military science fiction by basing her space adventurers on the Coast Guard. In this sequel to A Pale Light in the Black, a new enemy and a new team mate both threaten the crew's hard-won unity.
Publisher's summary: Zuma's Ghost has won the Boarding Games for the second straight year. The crew—led by the unparalleled ability of Jenks in the cage, the brilliant pairing of Ma and Max in the pilot seats, the technical savvy of Sapphi, and the sword skills of Tamago and Rosa—has all come together to form an unstoppable team. Until it all comes apart.
Their commander and Master Chief are both retiring. Which means Jenks is getting promoted, a new commander is joining them, and a fresh-faced spacer is arriving to shake up their perfect dynamics. And while not being able to threepeat is on their minds, the more important thing is how they're going to fulfill their mission in the black. 
After a plea deal transforms a twenty-year ore-mining sentence into NeoG service, Spacer Chae Ho-ki earns a spot on the team. But there's more to Chae that the crew doesn't know, and they must hide a secret that could endanger everyone they love—as well as their new teammates—if it got out. At the same time, a seemingly untouchable coalition is attempting to take over trade with the Trappist colonies and start a war with the NeoG. When the crew of Zuma's Ghost gets involved, they end up as targets of this ruthless enemy. 
With new members aboard, will the team grow stronger this time around? Will they be able to win the games? And, more important, will they be able to surmount threats from both without and within? 
Buy Hold Fast Through the Fire by K.B. Wagers.