"Put Captain Solo in the cargo hold—of my, uh…starship?"
Boba Fett's signature Slave I ship has apparently lost its name in the official Star Wars canon, as indicated by Disney's alleged recent request to the LEGO company regarding a new toy rendition of the ship. Intriguingly, with the direction of merchandising—specifically toys—sometimes proving to be a leading indicator for imminent onscreen developments, it's quite feasible that the revocation of the ship's name might be certified onscreen on the bounty hunter's upcoming Disney+ series, The Book of Boba Fett.
"Boba Fett's Starship" is the generic name that will adorn the box of an upcoming LEGO set (contrasting with previous releases,) inspired by the hitherto Slave I's exciting appearance on the second season of The Mandalorian. Indeed, LEGO Star Wars team members Jens Kronvold Frederiksen and Michael Lee Stockwell recently let slip in a LEGO Fan Media Day Q&A that "everybody is" dropping the Slave I name. "It's probably not something which has been announced publicly but it is just something that Disney doesn't want to use any more," explained Frederiksen. While Disney has not issued an official statement on the ship's name change, LEGO's promotional photos for the set packaging clearly reflects an erasure of the Slave I name. Consequently, this leaves one to wonder if this change will somehow be reflected plot-wise on The Book of Boba Fett. What, then, will the Sarlacc-surviving bounty hunter call his famous ride?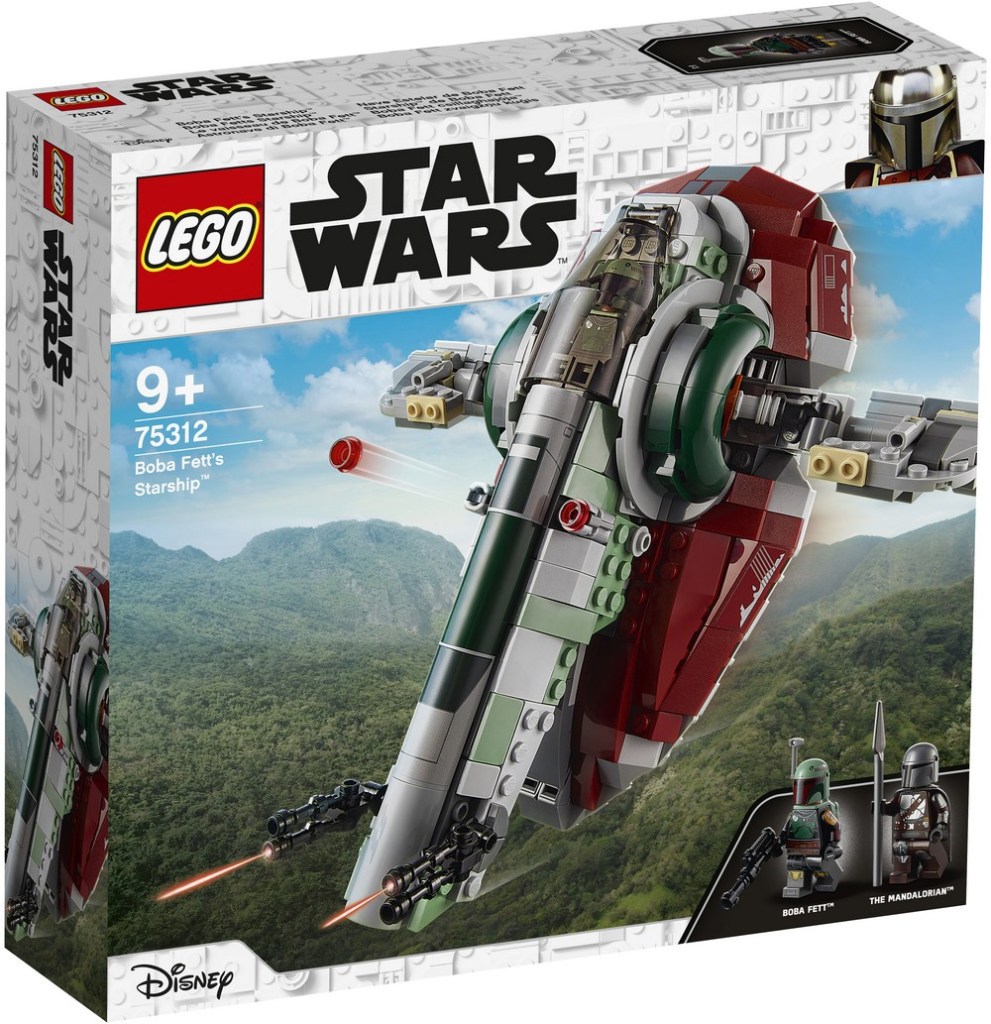 That question is more layered than it seems. While the Slave I is an iconic vehicle in the Star Wars franchise, its name has never been uttered onscreen—at least for its prominent live-action appearances, anyway. Indeed, we first saw it in all its sleek, toy-spawning glory in 1980's The Empire Strikes Back, in which Boba is seen instructing Cloud City personnel to load the Carbonite-frozen Han Solo into his ship's cargo hold. However, the ship was more prominently showcased in 2002 prequel Attack of the Clones, in which it was piloted by Boba's genetic template father, Jango Fett, who used its cannons to try and blast Obi-Wan Kenobi off a rain-soaked landing pad of the Kamino cloning facility, and subsequently flew it in an exciting asteroid field dogfight against the Jedi's starfighter. Notably, after Boba recently reemerged on television series The Mandalorian—mostly unscathed from his Return of the Jedi Sarlacc experience—the moment in which the Slave I showed up onscreen was met with raucous delight by the fandom. Despite all of that, the ship never had a "You've never heard of the Millennium Falcon?" type expositional movie moment that canonically solidified its name.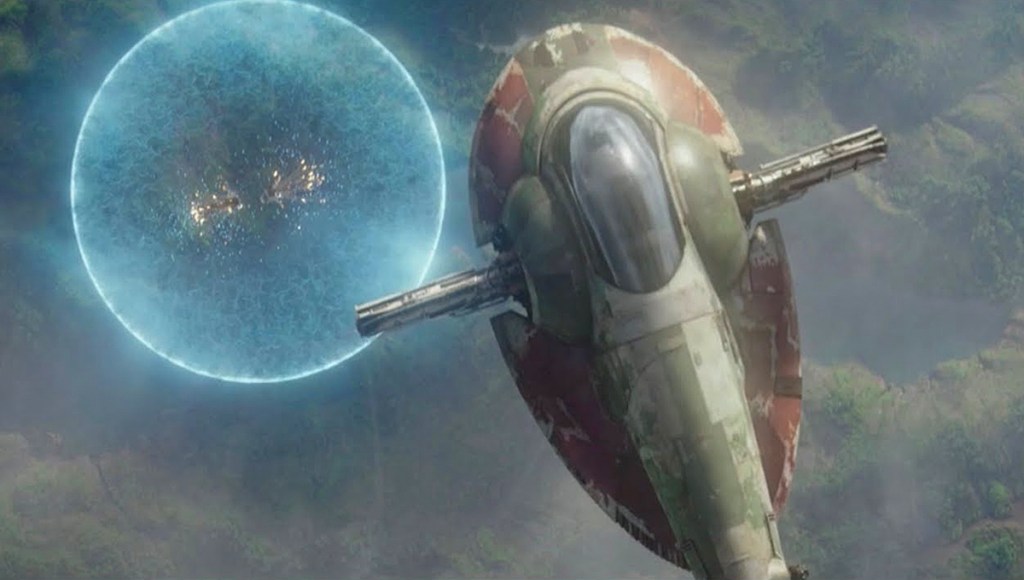 The ship itself is a Firespray-31-class patrol and attack craft, a stolen and repurposed patrol ship from prison moon Oovo 4, manufactured on the planet Kuat. Yet, akin to the stoic Boba himself, the Slave I's unconventionally ominous, prawn-shaped aesthetics managed to become the stuff of Star Wars legends even before its capabilities were first demonstrated onscreen in Attack of the Clones, notably with the devastating seismic charges used against Obi-Wan's pursuing ship; a weapon that would see successful use on The Mandalorian. However, the name Slave I was never really given a full explanation in any iteration of the canon, and just seemed generally evocative of Boba's status as an amoral space pirate of sorts. Thus, the essence of the ship itself—and the 40+ years' worth of legend it spawned in live-action offerings and on Star Wars: The Clone Wars—is not intrinsically attached to the now-nixed name. However, "Boba Fett's Starship" is clearly not a feasible thing to call such a celebrated vessel, especially as it is set to enjoy what will likely become its most prominent presence yet on The Book of Boba Fett.
Accordingly, the LEGO set is likely brandishing a placeholder title so as to not spoil upcoming plans. Naturally, the name-nixing has already perturbed purists, since angry reactions (and angry push-backs to those reactions,) to alterations—often to things considered sacrosanct by the fandom—in response to changing social or political tides is par for the course of the contemporary news cycle. Even a former portrayer of Boba Fett, Mark Anthony Austin, who briefly played the character in the retroactively-inserted Mos Eisley cameo in the 1997 Special Edition of A New Hope, tweeted his displeasure, stating, "My ship will forever be Slave1." However, Disney's move in this particular instance was proactive, since it was not so much a response to any specific blowback against the ship's long-running name as it was likely designed to get ahead of the prospectively problematic notion of having to refer to Boba's famous ride as Slave I on The Book of Boba Fett, on which the actual name of the eponymous character's ship will have to leave the lips of someone occasionally, breaking live-action precedence.
That said, the task of trying to guess what—if anything—Boba Fett's Slave I will ultimately be renamed is a fool's errand, since we know next to nothing right now. While it's possible that Disney could simply engage in the brute-force retcon strategy of just giving the ship a different name without any explanation, The Book of Boba Fett does provide an opportunity to compromise on this front. Indeed, since the series—having been spun off from The Mandalorian—takes place over five years after Return of the Jedi, it's in an advantageously undeveloped position on the canonical Star Wars timeline for a poignant, plot-driven explanation in which Boba simply renames his ship. It's a development—especially if said explanation is believable—that just might become acceptable to both sides of the Slave I issue.
We'll likely have to wait for The Book of Boba Fett to see how the Slave I controversy fully pans out. The series, starring Temuera Morrison's Boba Fett and Ming-Na Wen's Fennec Shan, is currently scheduled to premiere on Disney+ this December.