It was 40 years ago, in June 1981, that Clash of the Titans, the last film to feature the stop-motion animation effects of Ray Harryhausen, was released.
Starring a then-unknown Harry Hamlin, along with veteran stars like Laurence Olivier, Maggie Smith, Burgess Meredith, and Ursula Andress, the film was loosely based on the Greek myth of Perseus (Hamlin), weaving in strands of other mythologies and legends and putting its hero into conflict with creatures like the Kraken, Calibos, Medusa the Gorgon and a two-headed dog named Dioskilos.
"Greek and Roman myths contained characters and fantastic creatures that were ideal for cinematic adventures," wrote Harryhausen in his memoir, Ray Harryhausen: An Animated Life. "If some of the adventures were combined with 20th century storytelling, a timeless narrative could be constructed that would appeal to both young and old."
Harryhausen was already a filmmaking legend by the time he began work on Clash of the Titans. Born in Los Angeles on June 29, 1920, a 13-year-old Harryhausen's life was changed when he saw King Kong for the first time in 1933. Inspired by the groundbreaking stop-motion animation work in that film by Willis O'Brien, Harryhausen began experimenting with his own short films employing the same process.
He got to meet O'Brien at one point, with the visual effects pioneer encouraging the young Harryhausen to keep refining and improving his work. Some years later, after attending USC, doing a stint in the military during World War II and working at his first professional job on George Pal's Puppetoons, Harryhausen landed a job as O'Brien's assistant on Mighty Joe Young (1949).
It was on 1953's The Beast from 20,000 Fathoms, the first film on which Harryhausen was in charge of the visual effects, that he created the process known as "Dynamation," which allowed for greater and more realistic interaction between his stop-motion creatures and live actors.
In 1955, Harryhausen met producer Charles H. Schneer and formed a partnership that would begin with Harryhausen's next feature, It Came from Beneath the Sea (1955), and last all the way through their final collaboration on Clash of the Titans.
Their run of pictures included fantasy and sci-fi classics such as Earth vs. the Flying Saucers (1956), 20 Million Miles to Earth (1957), The 7th Voyage of Sinbad (1958), Jason and the Argonauts (1963), One Million Years B.C.(1966), The Golden Voyage of Sinbad (1974) and many others.
Unlike many visual effects artists even to this day, Harryhausen had an unusually high degree of creative control over his projects. He didn't just animate the monsters; he was involved in the conceptual and story development, production design, and many other aspects, acting as a co-producer with Schneer and sometimes as a co-director — an agreement that any director of a Harryhausen film had to abide by.
Harryhausen even received co-producer credit on The Golden Voyage of Sinbad, a title he would also officially obtain on his and Schneer's next and last two pictures, Sinbad and the Eye of the Tiger (1977) and Clash of the Titans. "I felt he deserved it," Schneer told Starlog magazine (#152) in March 1990. "It was a recognition that Ray contributed more than just the special FX. His input was added from day one."
Clash of the Titans was an idea that Harryhausen had been kicking around since the late 1950s, with screenwriter Beverley Cross (who wrote the final script for Titans) penning a treatment called Perseus and the Gorgon's Head in 1969. Although the plans were delayed by the next two Sinbad pictures, work on the project began in earnest as Sinbad and the Eye of the Tiger neared completion.
"The original legend of Perseus is complex and convoluted," wrote Harryhausen in An Animated Life. "So we had to manipulate events, stealing from one legend and putting it in another." Harryhausen cited the creation of the winged horse Pegasus as one example: in the original story, Pegasus is born from the blood of Medusa's severed head. But since her death would come near the end of the film, a different scene involving Perseus capturing and training Pegasus was conceived to bring him in earlier.
With a screenplay and production storyboards ready, Schneer presented the film to Columbia Pictures, where he and Harryhausen had a number of successes over the years. But the studio balked at the $15 million budget — more than all Harryhausen and Schneer's previous films combined — so Schneer next brought it to Orion Pictures.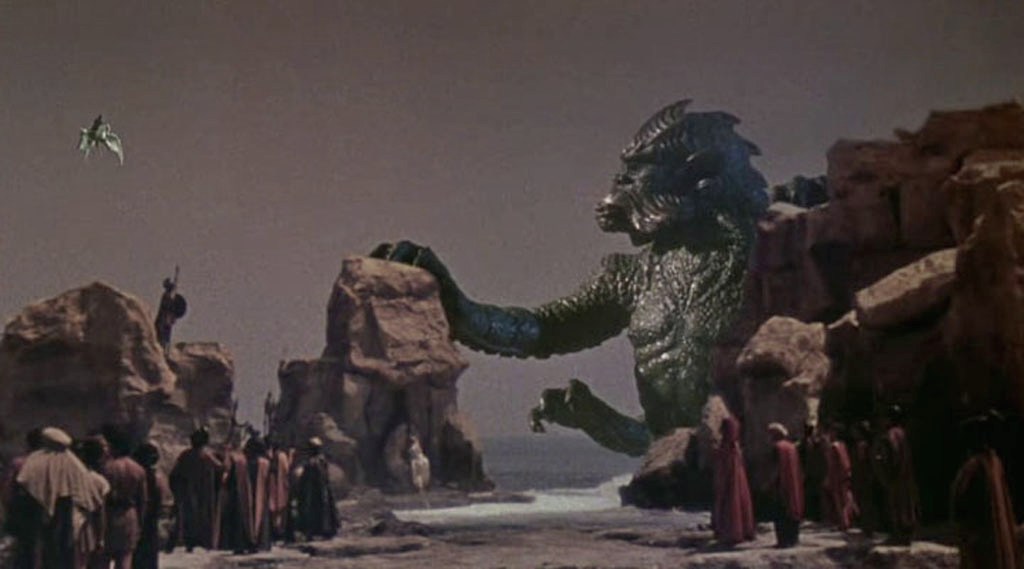 That company had one request: cast a then obscure but up-and-coming bodybuilder-turned-actor named Arnold Schwarzenegger as Perseus. This time Schneer and Harryhausen balked. "I told them he didn't fit the part, because it had dialogue," Schneer told Starlog. "But Orion considered his casting to be a deal breaker. They refused to accept another actor, so I walked out on them." Eventually, Metro-Goldwyn-Mayer showed great enthusiasm for the project, providing the full budget and even a bit more.
Schneer, Harryhausen and director Desmond Davis — whom Schneer had hired because of his work with Shakespearean actors on several BBC productions of the Bard's plays — looked at Malcolm McDowell, Michael York and Richard Chamberlain for Perseus before choosing Hamlin. "Harry had only made one picture, but had considerable stage experience," wrote Harryhausen. "Not only was it felt that he would be able to handle the role and the effects, but he also looked the part."
Hamlin told Starlog (#46) in May 1981 that he was initially reluctant to take the role, thinking it would be strictly a monster picture, until he saw the rest of the cast that was involved. But he was also drawn to the idea of playing a hero in the classical sense.
"I'm playing an across-the-board Greek hero type," he explained. "Perseus has no superpowers himself. He has a few accoutrements, such as a sword and a helmet which makes him invisible. He has a magic shield. He's a real hero in the classic sense. It's a good role. I've always wanted to be a hero."
Esteemed British actors like Olivier, Smith, Jack Gwillim, Claire Bloom and Sian Phillips embodied the constantly scheming, calculating gods Zeus, Thetis, Poseidon, Hera, and Cassiopeia, while Meredith — best known as the Penguin on the Batman TV series — was cast as the playwright Ammon. John Gielgud, Ralph Richardson and even Orson Welles were considered for Zeus until Olivier accepted the role.
"I told Ray that if he thought he was the star of our pictures, then I was going to upstage him once and for all," Schneer jokingly told Starlog. "I was going to cast actors who were bigger names than he was, and whose work the world knew better than his. I wanted to see if he could survive."
The movie begins with an infant Perseus and his mother Danae being sealed in a box and cast into the sea by Danae's father, King Acrisius, who is enraged that the god Zeus (Olivier) impregnated Danae with the child. Perseus is rescued and grows to become a young man, while a furious Zeus orders from Olympus that the Kraken — last of the Titans — be released to destroy Acrisius and his kingdom.
Sometime later, the adult Perseus wants to win the hand of the beautiful Andromeda (Judi Bowker), who was once betrothed to a prince named Calibos. But Calibos (played by both actor Neil McCarthy and a stop-motion model) was turned into a monster by Zeus after the former offended the gods, and any prospective new husband for Andromeda must now answer a riddle concocted by the man-monster.
Andromeda is eventually offered to the Kraken as a sacrifice even after Perseus successfully answers the riddle. The only way for the giant sea creature to be defeated is for Perseus to voyage to the island of Medusa, sever her head, and use her eyes to turn the Kraken into stone — unless Perseus succumbs first.
Clash was shot at England's Pinewood Studios, with location filming in Spain, Malta, and southern Italy. Principal photography began in May 1979 and concluded in September of the same year. Harryhausen then began the arduous, 18-month process of creating all the Dynarama effects (Dynamation had been renamed) and animating all the film's creatures, from Calibos to the Kraken to the eerie Medusa to the mechanical owl Bubo, which Harryhausen said was not a riff on R2-D2 from Star Wars.
To complete the post-production work in time for the film's June 1981 release, Harryhausen — who usually worked completely alone — brought in additional animators Steve Archer and Jim Danforth.
"I enjoy working by myself," Harryhausen said in Starlog #127 (February 1988). "I did all but one of my films entirely on my own. Clash of the Titans was the only picture on which I had assistants for the animation. I always liked to put my mark on the work because that's the final imprint you see on the screen. I felt a personal attachment to my films."
But Harryhausen admitted that the grueling work of sitting alone in a studio, doing the frame-by-frame movements and shots that are at the core of stop-motion animation, began getting to him as he raced to finish his work in January 1981.
"It is always a frame-by-frame process which takes time," he told Fangoria magazine in June of that year. "One of the greatest problems in this field is that after everyone's forgotten the picture you have to go on keeping excited and interested in what you are doing in order to go on for another year. Sometimes it gets a bit dismal but I survive."
The film did meet its release date as MGM's major release for the summer of 1981. Released on the same date as Raiders of the Lost Ark, it came in second to that film with a first weekend gross of $6.5 million. It finished 19th for the year at the domestic box office with total earnings of $30 million. Although some reports had it earning a total of $70 million worldwide, it actually topped out at $44.4 million — still a sizable hit against its $15 million budget and the equivalent of nearly $99 million today.
Critics and fans were mixed on the film, with the former giving it a 67% fresh rating on Rotten Tomatoes and the latter awarding it a slightly better 70% score. While Roger Ebert called it a "grand and glorious romantic adventure, giving it three-and-a-half out of four stars, Variety absolutely buried the film, calling it an "unbearable bore" and targeting Harryhausen's "endless array of flat, outdated special effects."
For Harryhausen, the Variety slam in particular seemed to flip a switch inside him. "When I came to read the Variety review…I became very disillusioned," he wrote in An Animated Life. "I gave the film so much of myself that when it was vindictively and unconstructively torn apart, the passion of filmmaking seemed to die."
Schneer told Starlog that he sensed a change in his longtime friend and partner after Clash was completed. "It was a gradual process," he said. "It didn't happen overnight. I saw it coming at the end of Clash. I could see that Ray was getting older….the trial of making a picture is so draining, that I don't blame him for backing away from it."
While Harryhausen's work in the field of fantasy filmmaking is unparalleled in its imagination and influence — everyone from George Lucas to James Cameron to Guillermo Del Toro has cited the man's work as an inspiration — it's clear that Clash of the Titans did indeed mark the end of an era. The effects look dated now, which could certainly be expected 40 years later; but at the time of the movie's release, the previous five years alone had seen a massive upheaval in cinematic visual effects.
Star Wars, Superman, Close Encounters of the Third Kind, Star Trek: The Motion Picture, Alien and The Empire Strikes Back had all come out in the years immediately before Clash, with all of those movies revolutionizing the way in which visual effects were achieved to one degree or another.
The incredible new techniques used to create epic space battles, detailed and awe-inspiring starships and lifelike monsters and extra-terrestrials all left Harryhausen's painstakingly handcrafted and impressive — if now undeniably quaint — methods in the dust (although stop-motion was still deployed in small doses in several films, most notably The Empire Strikes Back).
Computers were already being used to create the dazzling space dogfights shots in movies like Star Wars, and even more groundbreaking use of computers — the CG revolution — was on the way, with Tron giving the first glimpse of what was to come just a year after Clash of the Titans came out (Clash itself was remade in 2010, using many of the techniques fashioned in the last 30 years with disappointing results).
Harryhausen himself seemed to recognize what was coming. Although he and Schneer began preparing two more films — Sinbad Goes to Mars and Force of the Trojans — neither project got the necessary backing and Harryhausen decided to quit while he was ahead. "The decision to end my career at that point was absolutely right," he recalled in An Animated Life. "I was forced to concede that it was time to stand aside for others and their new technology to take over."
For movie lovers and fantasy fans of a certain age, Clash of the Titans was their first exposure not just to the work of Ray Harryhausen (who died on May 7, 2013, at the age of 92), but to the magic of fantasy storytelling, the wonders of stop-motion animation and the resonance of Greek mythology.
All of Harryhausen's films provided that kind of entertainment and enlightenment to different generations, and were the link between the work of Willis O'Brien on King Kong and the trailblazing era of effects defined by companies like Industrial Light and Magic, Digital Domain and Weta. Progress is necessary and change is inevitable; yet Clash of the Titans brought down the curtain on a career and a style of filmmaking that may be behind us, but will live on in the imaginations of all they touched.