Penguins are perfect. Sardine-saturated floaties with ridiculous flappers and leather toes, the flightless birds are God's most beautiful mistake. 
That's undoubtedly why the tuxedo bois have become a fixture of nature documentaries, starring in full-length features like March of the Penguins and Disney's Penguins. Now Netflix's new docuseries Penguin Town, narrated by Patton Oswalt, is betting on the unshakable fact that pop culture can never have too many penguins. Penguin Town bets correctly.
"They're incredibly clumsy because they've got short little legs," Penguin Town field producer Cayley Christos says. "They're almost like bouncing balls. They'll walk along in a line and several of them will make the same fall and stumble, which is hysterical to watch."
It's never a bad time for penguins. But after the rough year that was, now might really be the time for nature's unwitting comedians to shine. Penguin Town comes from Christos's Red Rock Films International, and follows the titular birds as they try to make homes for themselves in South African beachfront tourist destination, Simon's Town, which is about an hour's drive south of Cape Town.
"It's a bit of an old retirement town, and the penguins showed up in about 1985. So they weren't there when a lot of the residents built their houses and moved into the area," Christos says.
The infrastructure of Simon's Town has largely protected penguins from natural predators like caracals and leopards and allowed them to flourish in the urban environment. Penguin Town makes good use of that environment, delighting in the novelty of penguins waddling around people's homes and using the benevolence of human "giants" as a deus ex machina.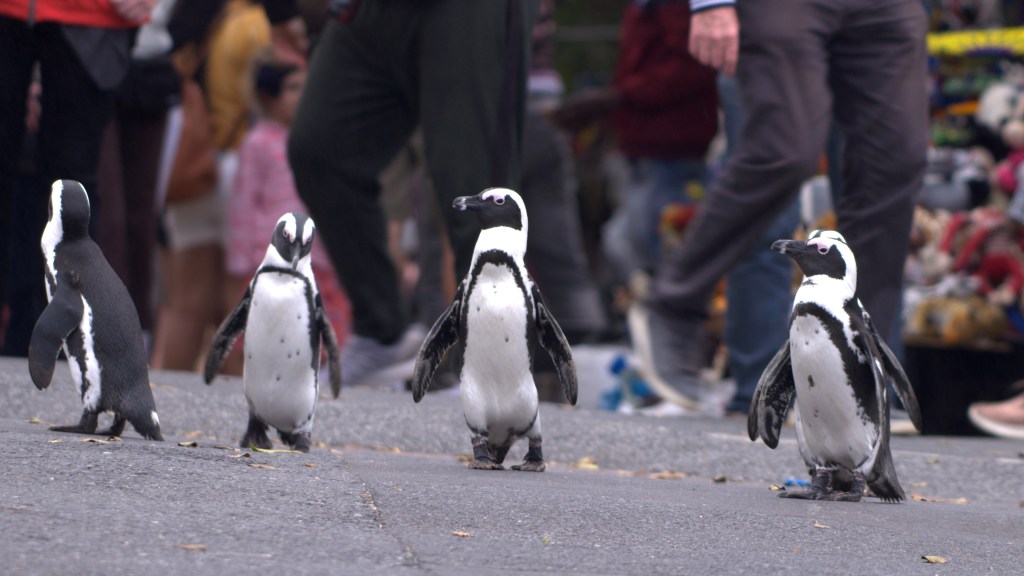 Just because the penguins of Simon's Town have found a home, however, doesn't mean they've achieved total safety. Penguins, ludicrous, portly little weirdos that they are, are natural targets for agile predators on high-fat diets. Every nature documentary that covers penguins faces a choice as to whether to depict the grim realities of the food chain or to spare its viewers the prospect of a black, white, and red all over massacre. Penguin Town, thankfully, opts for the sanitized version. 
"I know just from the comments I've seen online that nobody wants to see anything bad happen to a penguin. I think with the year we've all had, we need a feel-good story, and this is it," Christos says.
Penguin Town isn't without drama. Some birds go conspicuously missing, while others deal with a crew of penguin bullies that the doc dubs "The Car Park Gang." But for the most part, everything is beautiful and nothing hurts in Penguin Town. 
That's partly because the documentary cast a wide net to find the most intriguing wildlife stories possible. Christos and her team started by monitoring 80 different nests across the city, then followed those nests every day for juicy penguin drama, before narrowing them down to five particularly charismatic penguin families. Patton Oswalt's narration gives the penguin clans unique names to better keep up with them, many of which come from the filmmakers themselves.
"We were putting little postcards on the wall saying, 'Family 1 did this. Family 2 did this' and naming the different penguins. Not all of those names make it into the show, but most of them did, which is really exciting," Christos says.
Though viewers are mostly spared from nature's cruelty, filmmakers were exposed to the good, the bad, and the ugly of penguin life while following dozens of the birds. Once the documentary was complete, production arranged for signs to be placed around parking lots and streets reminding human giants to be mindful of their penguin neighbors. 
"Bad things happen to penguins all the time, that's why they're endangered," Christos says. "(In Simon's Town) penguins keep getting under cars, they walk across roads, and they're difficult to see. So (the signs say) 'Look under your car, be careful of penguins crossing the roads.' Just to create a little bit more awareness in the area."
Netflix should spring to have those signs placed in cities around the world – not because there's a threat of encountering a penguin in North America, it's just nice to be reminded that they exist. 
All eight episodes of Penguin Town are available to stream on Netflix now.