This piece contains spoilers for Netflix's Lupin Part 2.
Netflix's Lupin ended Part 1 on the ultimate fannish moment, with Officer Youssef Guedira (Soufiane Guerrab) addressing Assane Diop (Omar Sy) as "Arsène Lupin?"—and then picked up Part 2 with Assane responding in turn, identifying his new ally Guedira as "Ganimard," the name of Lupin's archnemesis. Throughout the latter five episodes of George Kay's (Killing Eve) French crime drama, the gentleman thief and the police officer replicate their literary heroes' dynamic—shifting between rivals on opposite sides of the law to something approaching friendship—while evolving the relationship beyond Maurice Leblanc's original characters.
"Who could baffle the schemes of Arsène Lupin better than Ganimard, the patient and astute detective?" Leblanc writes early on in Arsène Lupin, Gentleman Burglar. Wherever the gentleman thief is mentioned, his law-abiding archrival quickly follows, hot on the metaphorical trail. Like the best cat-and-mouse pairs, these two spend so long chasing one another that they become intimately familiar with one another's methods and even modes of thinking, yet still have their blind spots. For instance, Ganimard doesn't allow himself to be distracted by a false murder charge, knowing that Lupin doesn't kill, but he manages to let the thief get away in a later adventure because it never occurs to him that Lupin would escape prison and then return.
While Lupin has remarked that Ganimard doesn't quite possess the deductive wits of himself nor of his guest-star rival Sherlock Holmes (a.k.a. Herlock Sholmes), he nonetheless respects Ganimard's sheer tenacity and commitment to chasing him. Of course, that doesn't stop him from escaping Ganimard's custody every chance he gets. Despite all this, they become something close to friends as Leblanc's adventures go on, with Lupin sometimes entrusting cases to Ganimard (as in "The Red Silk Scarf") and the two finding some common ground.
Interestingly, Monkey Punch's Lupin III anime seems to have split the Ganimard persona into three distinct characters. The namesake is Ganimard III, the same age as Lupin III, and burdened with several generations of Ganimard family guilt and embarrassment over letting the Lupins consistently outwit them. Though Ganimard III only appears in Lupin the 3rd Part 1, he and Lupin III replicate their grandfathers' dynamic of wily thief and bumbling inspector as concerns a French Fair exhibit of Arséne Lupin's prized possessions. Ganimard III, who operates on logic and science, thinks he has laid the perfect trap for his contemporary, only for Lupin III to employ some retro tricks and crafty disguises to make history repeat itself as Ganimard III returns to France in shame.
Melon Ganimard, who may or may not be Ganimard III's sister, seems to present more of a challenge to Lupin III in a future anime installment, with her ability to suss out his disguises and her penchant for throwing handcuffs at him. Yet despite her own canniness in disguising herself as a bombshell to try and fool him, Lupin III tells her that "he never forgets a woman" and traps her in her own family heirloom handcuffs.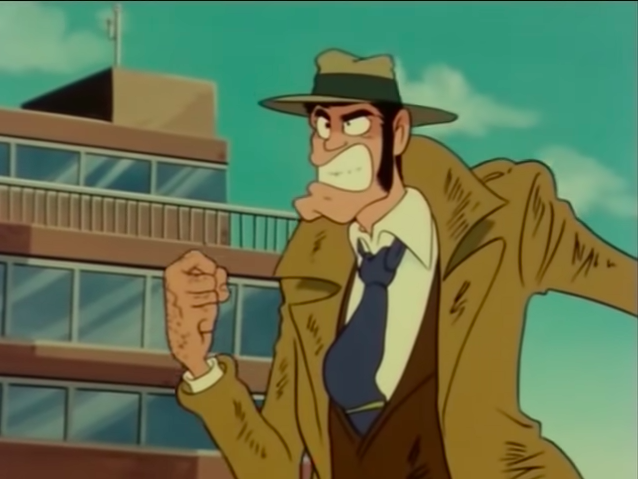 Ultimately, neither Ganimard has the staying power of Lupin III's best foil: Inspector Kōichi Zenigata from the Tokyo Metropolitan Police, who joins Interpol in an effort to catch the gentleman thief in the act. Alternating between goofy and serious depending on the adaptation, Zenigata's most consistent character trait is his obsession with tracking Lupin down. The fact that they have similar enough builds makes for plenty of opportunities not just for Lupin to impersonate Zenigata (which helps fool the Ganimards) but for Zenigata to turn that trick around on him as well.
Countless close calls contribute to Zenigata's hotheadedness, as Lupin manages to evade him each time. But even the inspector's more impulsive moves are backed by legitimately sharp instincts and the keenness to anticipate Lupin's moves—prompting the thief to point out that it's a shame that Zenigata is a cop. In Hayao Miyazaki's The Castle of Cagliostro, the two even form a pact (albeit temporarily) in order to escape the titular castle's deadly catacombs. What started as a professional rivalry, with more than one occasion forcing them to save each other's necks, has transformed into real respect and genuine affection.
"Chapter 6" of Lupin Part 2 initially subverts this modern Lupin/Ganimard relationship by having Guedira lie about his identity; at first he lets Assane believe that he is merely a good samaritan helping to rescue the captured Raoul (Etan Simon) from Pellegrini's man Léonard (Adama Niane). But even by the end of that first episode, Assane reveals that he's easily figured out who Guedira is, and—perhaps in a throwback to the anime's Ganimard descendants—zip-ties him to their stolen car as he goes after Léonard alone. When he says, "You're Ganimard," it's a compliment! Only Guedira figured out who Assane's crimes were in homage to, because of their shared fandom for the Arsène Lupin canon. But the fact remains that Assane doesn't work with cops.
That choice proves potentially devastating by the end of "Chapter 6," the final scene which makes Assane and the viewers believe that Raoul has perished in the burning car. If the gentleman thief, so used to relying on only himself in the middle of a heist, had brought an ally, then his son might have survived.
Thankfully, that bleak read is quickly reversed by one of the series' signature flashbacks to what happened to Guedira after Assane left him: He managed to get out in time to rescue Raoul from the car before Léonard set it on fire. Yet having Raoul as bait puts them back on opposite sides of the law, as Guedira's colleagues use the boy to try and arrest the thief. Unfortunately, that plus the Pellegrinis' scheming ultimately leads to Assane being framed for the murder of Léonard—something that everyone believes, even potentially Guedira, who seems to have a genuine loss of faith with regard to Assane upholding the gentleman thief's morals. Not even finally unearthing Assane's headquarters, with its Lupin Easter eggs of a top hat and the eponymous "Jewish lamp" from one of the stories, is enough to comfort Guedira's disillusionment with his favorite book series.
And here represents the turning point for Lupin the series. Just as Assane Diop's Lupin is a subversion of the archetypal character by engaging with the racism of him not "looking" like people would expect of a gentleman thief, Guedira-as-Ganimard's pivotal moment is when he dares to question the police department and the letter of the law itself. "Lupin doesn't kill," he keeps insisting to Lieutenant Belkacem (Shirine Boutella) and especially Dumont (Vincent Garanger), but they have lost any faith in his Diop-as-Lupin theory. He is alone in his convictions.
So Guedira is perfectly primed for one of the series' best moments, when Assane addresses him as "Ganimard" via Internet comments. This engagement in a fannish space, this brief foray into online role-playing, carries all the joy of a shared joke and all the weight of a missing puzzle piece—leading him to the proof of Dumont's corruption and the permission to seek out Lupin at his final confrontation with Pellegrini in "Chapter 10."
For his part, Guerrab believes that Guedira and Assane's relationship transcends fandom by the end of Lupin Part 2. "Although in Part 1 Guedira and Assane are connected through their passion for Arsène Lupin," he says in the Netflix press notes, "in Part 2 they get to know each other and almost forget about their shared passion—they are human beings, first and foremost. You get the feeling that even if one of them is a burglar and the other is a police officer, they could be the best of friends."
Anime creator Monkey Punch has said that the only way he envisions ending the Lupin III story would be to have Lupin and Inspector Zenigata conclude their story as equals: whether that means both failing or both winning—or both simply getting too old for this cat-and-mouse game—they would end on the same terms. While Assane Diop and Officer Guedira are both too young to give up their intense dynamic anytime soon—and there's no telling what's in store for Netflix's Lupin Part 3—it's a comforting thought that these two might someday face the same endgame.
Lupin Part 2 is available now on Netflix.