Tor Books & Den of Geek Present:
TorCon 2021
In partnership with Tor Books, we are thrilled to announce the return of TorCon, a virtual convention launched in 2020 to bring the entertainment and excitement of live book conventions into the virtual space. From Thursday, June 10 through Sunday, June 13, Tor Books, Forge Books, Tordotcom Publishing, Tor Teen, and Nightfire are presenting ten panels featuring over 30 of your favorite authors in conversation with each other—and with you!
Join authors including James Rollins, Charlie Jane Anders, Joe Pera, Catriona Ward, Gillian Flynn, TJ Klune, Alix E. Harrow, Seanan McGuire, Nghi Vo, and many more for four days of pure geekery, exclusive reveals, sneak peeks, giveaways, and more… all from the comfort of your own home!
Visit the TorCon Bookstore here.
Check out the full lineup below, featuring moderation from Den of Geek Editor Kayti Burt and Den of Geek Contributor Natalie Zutter, and save the date to stay home and geek out with us!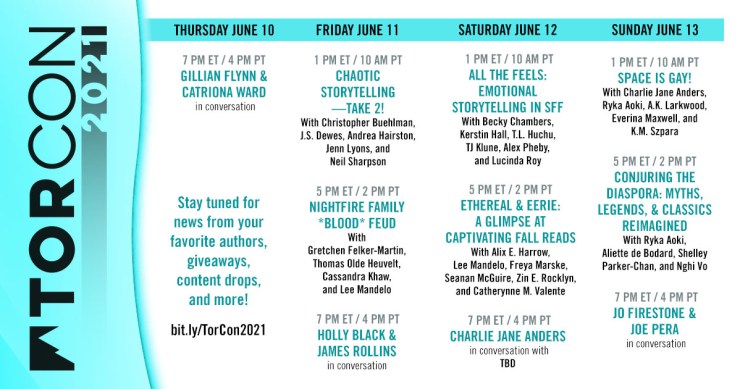 Thursday, June 10
7 PM ET/4 PM PT: Catriona Ward in conversation with Gillian Flynn
Catriona Ward's twisty and terrifying The Last House on Needless Street is one of the most anticipated books of the fall—and who better to join her to discuss all things thrilling and chilling than #1 New York Times bestselling author Gillian Flynn (Gone Girl, Dark Places, Sharp Objects)? This powerhouse panel is not to be missed. This panel is co-hosted by Den of Geek and moderated by Kayti Burt.
Register Here
Friday, June 11
1 PM ET/10 AM PT: Chaotic Storytelling—Take 2!
Back by chaotic demand! Last year, we tasked a brave panel of authors with telling us an epic story unlike any other. Now, we're asking a new group of authors to spin us a brand new tale. Join us for take 2 of Chaotic Storytelling: 2 Chaotic, 2 Furious! Christopher Buehlman (The Blacktongue Thief), J.S. Dewes (The Last Watch), Andrea Hairston (Master of Poisons), Jenn Lyons (The House of Always), and Neil Sharpson (When the Sparrow Falls) will incorporate writing prompts from you, the audience, to create a brand new story—and talk about their craft and inspirations along the way. This panel is co-hosted by LitHub and moderated by Drew Broussard.
Register Here
5 PM ET/2 PM PT: Nightfire Family *Blood* Feud
Our new horror imprint, Nightfire, brings together some of your favorite horror and gothic authors as they go head-to-head in a horror-inspired version of the favorite game show… What tropes are fan favorites? Which movie franchise is the scariest? Join Gretchen Felker-Martin (Manhunt), Cassandra Khaw (Nothing But Blackened Teeth), Thomas Olde Heuvelt (HEX, Echo), and our host Lee Mandelo (Summer Sons) to find out during Nightfire's Horror Feud!
Register Here
7 PM ET/4 PM PT: James Rollins in conversation with Holly Black
Holly Black joins James Rollins to discuss his new epic novel, The Starless Crown—plus make an exclusive announcement for Holly's fans! Join these two #1 New York Times bestsellers as they talk bringing the thrills to fantasy, fighting the moon, stealing a god, new projects… and maybe even share a sneak peek at some of their latest work! This panel is co-hosted by Den of Geek and moderated by Natalie Zutter.
Register Here
Saturday, June 12
1 PM ET/10 AM PT: All the Feels: Emotional Storytelling in SFF
What's the last book you read that made you sob? What about the last one that had a character you fell in love with, or a plot twist that made you gasp? Sure, sci fi and fantasy have all the coolest story elements, from ghosts to divine cities, robots to cannibalistic nuns…but the *real* reason we love these books is that they hit us right in the feels. Join Becky Chambers (A Psalm for the Wild-Built), Kerstin Hall (Star Eater), T.L. Huchu (The Library of the Dead), Alex Pheby (Mordew), Lucinda Roy (The Freedom Race), and moderator TJ Klune (Under the Whispering Door) as they talk about how to make stories more than just words on a page, and mastermind their next evil plot to make us all have emotions while we're just trying to read!
Register Here
5 PM ET/2 PM PT: Ethereal & Eerie: A Glimpse at Captivating Fall Reads
Imagine: you long for another world—but then a door appears in front of you, out of nowhere. Step through, and end up in the remnants of a flooded kingdom, where tentacled beasts wait beneath the waves. Or maybe you'll go to the American south, lushly gothic with ghosts lurking everywhere. Perhaps the door leads to a dangerous enchanted—and somehow romantic—hedge maze in Edwardian England, or to a world where there's more than just one spindle, and more than just one sleeping beauty. Maybe your door just leads to a place where everything is perfect…or is it? Step through your door and catch a glimpse of fall's most ethereal and eerie reads from authors Alix E. Harrow (A Spindle Splintered), Freya Marske (A Marvellous Light), Lee Mandelo (Summer Sons), Zin E. Rocklyn (Flowers for the Sea), and Catherynne M. Valente (Comfort Me With Apples). Moderated by Seanan McGuire (Where the Drowned Girls Go).
Register Here
7 PM ET/4 PM PT: Charlie Jane Anders in conversation with TJ Klune
Join internationally bestselling author Charlie Jane Anders (Victories Greater Than Death, Never Say You Can't Survive) in conversation with New York Times and USA Today bestselling author TJ Klune (The House in the Cerulean Sea, Flash Fire) as they discuss writing SFF for adults and teens, crafting authentic queer narratives, and everlasting fictional characters that stay with readers long after they've finished the book. This panel is co-hosted by Den of Geek and moderated by Kayti Burt.
Register Here
Sunday, June 13
1 PM ET/10 AM PT: Space is Gay!
Only two things are infinite: Space and Gay. However, when it comes to SFF, the amount of spaces that can be queered is EVEN! MORE! INFINITE! Join Charlie Jane Anders (Victories Greater Than Death), Ryka Aoki (Light From Uncommon Stars), A.K. Larkwood (The Unspoken Name), Everina Maxwell (Winter's Orbit), and moderator K.M. Szpara (First, Become Ashes) as they discuss queer science fiction spaces, extraterrestrial OTPs, and how in space, no one can hear your gay pining. Attendees can enter for a chance to win one of Tor's limited edition Space is Gay pins.
Register Here
7 PM ET/4 PM PT: Jo Firestone in conversation with Joe Pera
Joe Pera, from the Adult Swim show, Joe Pera Talks With You, has been lauded for his warmhearted comedic stylings. Now, join him and his co-star, friend, and fellow comedian Jo Firestone, to present a preview of his first book! A Bathroom Book for People Not Pooping or Peeing but Using the Bathroom as an Escape will combine Pera's cozy comedy and artist Joe Bennett's darkly playful illustrations, creating a funny and sincere guide to regaining calm and confidence when you're hiding in the bathroom from life's stresses. This panel is co-hosted by Den of Geek and moderated by Kayti Burt.
Register Here