"I tried to think of the most harmless thing. Something I loved from my childhood. Something that could never ever possibly destroy us: Mr. Stay Puft!"
Ghostbusters: Afterlife just revealed how it will make those words from Dan Aykroyd's Ray Stantz more prescient—and poetically meta—than ever. The line, from the 1984 original movie, was a contrite explanation for his impulsive decision to choose the now-iconic, pillowy "destroyer" form of ancient evil entity Gozer for its attack on the Big Apple. Now, the 32-years-awaited follow-up to the franchise's original iteration (last seen with 1989's Ghostbusters II,) is bringing back Mr. Stay Puft—miniaturized and multiplied. Thusly, speculation on Gozer's prospective return is potent.
Paul Rudd's Ghostbusters: Afterlife character, summer school teacher Mr. Grooberson, will collide with the original team's spectral legacy, as indicated in a new teaser clip (seen below). Indeed, some grocery shopping—rife with forensically-framed Baskin Robbins product placement—goes sideways quickly when the search for toppings leads Grooberson to a moving bag of marshmallows—Stay Puft Marshmallows, which apparently survived its monumental PR nightmare—after which a single puff escapes, revealing its resemblance to the pancake-cap-modeling mascot himself, all to the needle drop of Elmer Bernstein's haunting original movie score. However, the pint-sized snack's brief display of Baby Yoda vibes abruptly ends when it gnashes its teeth and bites his finger. What follows is an orgy of macabre marshmallow mischief with a runaway Roomba and barbecue grill. While the small town Oklahoma location makes the Gozer connection seem puzzling, it's actually not.
The 2019-dropped first trailer for Ghostbusters: Afterlife provided some Gozer-implicit material, notably with the shot of an abandoned property called Shandor Mining Co., which—barring an unnecessary coincidence in Jason Reitman and Gil Kenan's script—explicitly points to the name of Ivor Shandor. Still not with us? Well, that name was mentioned in key expositional dialogue in the 1984 original movie from Harold Ramis's Egon Spengler, who explained that Shandor—a wealthy architect and physician—was a cult leader who had Dana Barrett's fateful apartment building constructed in the 1920s to secretly serve as a doorway for Gozer to enter our world, making it the hub for New York's wave of supernatural activity. The endeavor—motivated by disillusionment from the First World War—would come to fruition in the events of the first film, decades after Shandor's death, relegating his presence in the film canon only to Egon's dialogue. Yet, non-canon offerings such as the 2009 Ghostbusters video game and the recent IDW comic book series utilized Shandor more effectively.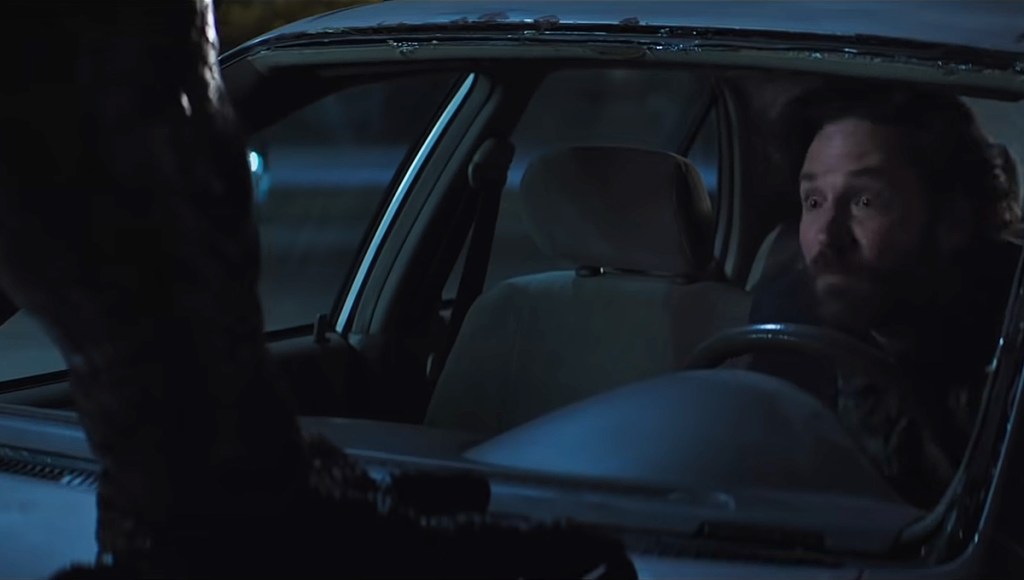 However, the mine and newly-revealed army of mini Stay Pufts aren't the only things in Afterlife pointing to Gozer. The aforementioned trailer also contains a blink-and-you-miss-it shot of Rudd's Grooberson in a car, seemingly in the midst of a frantic escape, when something lands on the hood. While the creature is mostly out of the frame, a familiar-looking clawed, canine-esque foot does make the shot, implying the film's presence of Terror Dogs. One of the most iconic creatures from the original Ghostbusters (save for Stay Puft himself), the Terror Dogs were the frightening forms of Gozer's demigod lackies, Zuul, a.k.a. The Gatekeeper, and Vinz Clortho, a.k.a. The Keymaster. Of course, the former ended up possessing Dana Barrett and the latter would take over her awkward floor neighbor, Louis Tully; a necessary step to create the coupling that unlocks Shandor's interdimensional doorway. The result was a liberated Gozer, who initially took the form of a demonic-looking woman sporting a Sheena Easton haircut and pink jumpsuit before becoming a kaiju-sized manifestation of the fictional marshmallow brand's mascot made from Ray's happy childhood memory. Consequently, the apparent presence of Terror Dogs in the new movie seems to point to another Gatekeeper/Keymaster conundrum.
The film will nevertheless serve as a generational handoff of the franchise from returning classic players in Dan Aykroyd's Ray Stantz, Bill Murray's Peter Venkman, Ernie Hudson's Winston Zeddemore, Annie Potts's Janine Melnitz and Sigourney Weaver's Dana Barrett. The plot kicks off with the ordeal of single mother Callie (Carrie Coon), who's forced to move to a rural Oklahoma farm owned by her family. However, her inquisitive two kids, Trevor (Finn Wolfhard) and Phoebe (McKenna Grace) discover that said farm was built for a purpose, one connected to the supernatural activity that now stirs within the Shandor Mine. While the film's early character details remain ambiguous, the trailer shows the children at home finding the Ecto-1 and Ghostbuster uniform of the late Harold Ramis's Egon Spengler, thus implying that they are his grandchildren. The apparent familial connection further solidifies the notion of a Gozer-centric plot, presumably with the idea that Egon purchased the farm to watch over things based on his research on Shandor.
Regardless, it's clear that Afterlife is a legacy movie, and its usage of nostalgic concepts was always inevitable. Yet, while the name Gozer may be iconic to us geeky movie buffs, the creature itself is not widely renowned, at least not to the casual moviegoers who may have only seen the film once or just maintain passing knowledge due to the franchise's pop culture presence. After all, even Activision's infamous original Ghostbusters video game—most widely played via the 1988 NES version—mistakenly labels Gozer as "Zuul," a famous botch (uncorrected across all of its ports) likely attributed to the film's oft-quoted "There is no Dana, there is only Zuul" line and the Japanese development team's equally infamous lack of competent English translators. Thus, we're not quite ready to put Gozer on a Darth Vader-type pedestal of veneration.
It will be interesting to see if director Jason Reitman builds upon the legacy established by his father, Ivan Reitman, on the classic first two films, or if he ends up going the trope-mimicking, member-berries-bountiful unironic parody route that has become so commonplace with modern film reboots. We will certainly find out when the frequently-delayed Ghostbusters: Afterlife presumably makes its long-awaited premiere at theaters on Thursday, November 11.