Fantasy helps us take a break from reality when we need the respite, or learn more about our real world. Here are some of the fantasy books we're planning on checking out this year…
Top New Fantasy Books April 2021
The Light of the Midnight Stars by Rena Rossner
Type: Novel
Publisher: Redhook
Release date: April 13
Den of Geek says: It's always good to see more Jewish voices in fantasy. This book sees the root of superhero stories made specific as a threat can only be defeated by a cast of Jewish miracle-workers.
Publisher's summary: Deep in the Hungarian woods, the sacred magic of King Solomon lives on in his descendants. Gathering under the midnight stars, they perform small miracles and none are more gifted than the great Rabbi Isaac and his three daughters. 
Hannah, bookish and calm, can coax plants to grow even when the weather is bitterly cold. Sarah, defiant and strong, can control the impulsive nature of fire. And Levana, the fey one, can read the path of the stars to decipher their secrets. 
But darkness is creeping across Europe, threatening the lives of every Jewish person in every village. Each sister will have to make an impossible choice in an effort to survive – and change the fate of their family forever.
Buy The Light of the Midnight Stars by Rena Rossner.
The Helm of Midnight by Marina Lostetter
Type: Novel
Publisher: Tor Books
Release date: April 13
Den of Geek says: Alternate genders and inventive magic spice up a serial killer story in a weird city.
Publisher's summary: In a daring and deadly heist, thieves have made away with an artifact of terrible power―the death mask of Louis Charbon. Made by a master craftsman, it is imbued with the spirit of a monster from history, a serial murderer who terrorized the city.
Now Charbon is loose once more, killing from beyond the grave. But these murders are different from before, not simply random but the work of a deliberate mind probing for answers to a sinister question.
It is up to Krona Hirvath and her fellow Regulators to enter the mind of madness to stop this insatiable killer while facing the terrible truths left in his wake.
Buy The Helm of Midnight by Marina Lostetter.
Witches Steeped in Gold by Ciannon Smart
Type: Novel
Publisher: HarperTeen
Release date: April 20
Den of Geek says: The line between genre fiction and genre YA is sometimes muddy. Is it about the age of the protagonist? Purely a marketing decision? We've decided to err on the side of promoting Witches Steeped in Gold here, mostly on the strength of the dynamic between the two prickly characters.
Publisher's summary: Divided by their order. United by their vengeance.
Iraya has spent her life in a cell, but every day brings her closer to freedom—and vengeance. 
Jazmyne is the Queen's daughter, but unlike her sister before her, she has no intention of dying to strengthen her mother's power.
Sworn enemies, these two witches enter a precarious alliance to take down a mutual threat. But power is intoxicating, revenge is a bloody pursuit, and nothing is certain—except the lengths they will go to win this game.
Buy Witches Steeped in Gold by Ciannon Smart.
Top New Fantasy Books March 2021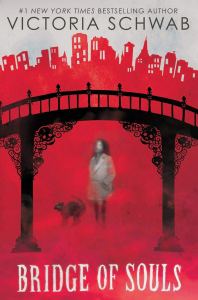 Bridge of Souls by Victoria Schwab
Type: Novel
Publisher: Scholastic Press 
Release date: March 2
Den of Geek says: The next entry in this well-received series mixes fantasy and horror in a twisty mystery about a ghost-hunter in an atmospheric New Orleans.
Publisher's summary: Where there are ghosts, Cassidy Blake follows . . .
Unless it's the other way around?
Cass thinks she might have this ghost-hunting thing down. After all, she and her ghost best friend, Jacob, have survived two haunted cities while traveling for her parents' TV show.
But nothing can prepare Cass for New Orleans, which wears all of its hauntings on its sleeve. In a city of ghost tours and tombs, raucous music and all kinds of magic, Cass could get lost in all the colorful, grisly local legends. And the city's biggest surprise is a foe Cass never expected to face: a servant of Death itself.
Buy Bridge of Souls by Victoria Schwab.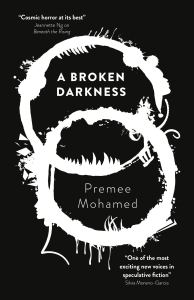 A Broken Darkness by Premee Mohamed
Type: Novel
Publisher: Solaris
Release date: March 30
Den of Geek says: This is another one hard to categorize. It's a little bit fantasy, a little bit science fiction, and a little bit eldritch. The first book in the series showed off Mohamed's unique aesthetic and mix of serious stakes and wry humor.
Publisher's summary: It's been a year and a half since the Anomaly, when They tried to force their way into the world from the shapeless void.
Nick Prasad is piecing his life together, and has joined the secretive Ssarati Society to help monitor threats to humanity – including his former friend Johnny.
Right on cue, the unveiling of Johnny's latest experiment sees more portals opened to Them, leaving her protesting her innocence even as the two of them are thrown together to fight the darkness once more…
Buy A Broken Darkness by Premee Mohamed.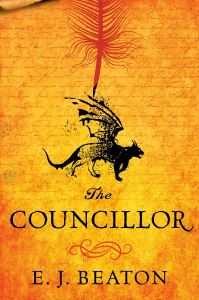 The Councillor by E.J. Beaton
Type: Novel
Publisher: DAW
Release date: March 2
Den of Geek says: This political fantasy follows in the footsteps of The Traitor Baru Cormorant. We're intrigued by the story of a character tangled in her own ambition, and fantasy where words are more important than swords.
Publisher's summary: This Machiavellian fantasy follows a scholar's quest to choose the next ruler of her nation amidst lies, conspiracy, and assassination
When the death of Iron Queen Sarelin Brey fractures the realm of Elira, Lysande Prior, the palace scholar and the queen's closest friend, is appointed Councillor. Publically, Lysande must choose the next monarch from amongst the city-rulers vying for the throne. Privately, she seeks to discover which ruler murdered the queen, suspecting the use of magic.
Resourceful, analytical, and quiet, Lysande appears to embody the motto she was raised with: everything in its place. Yet while she hides her drug addiction from her new associates, she cannot hide her growing interest in power. She becomes locked in a game of strategy with the city-rulers – especially the erudite prince Luca Fontaine, who seems to shift between ally and rival.
Further from home, an old enemy is stirring: the magic-wielding White Queen is on the move again, and her alliance with a traitor among the royal milieu poses a danger not just to the peace of the realm, but to the survival of everything that Lysande cares about. 
In a world where the low-born keep their heads down, Lysande must learn to fight an enemy who wears many guises… even as she wages her own battle between ambition and restraint.
Buy The Councillor by E.J. Beaton.
Top New Fantasy Books February 2021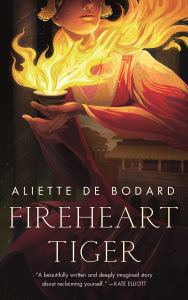 Fireheart Tiger by Aliette de Bodard
Type: Novella
Publisher: Tordotcom
Release date: Feb. 9
Den of Geek says: De Bodard is a staple around here for lush settings and unique characters. Here she turns her hand to a romance (and maybe love that doesn't work out after all) compared to Howl's Moving Castle.
Publisher's Summary:
Fire burns bright and has a long memory….
Quiet, thoughtful princess Thanh was sent away as a hostage to the powerful faraway country of Ephteria as a child. Now she's returned to her mother's imperial court, haunted not only by memories of her first romance, but by worrying magical echoes of a fire that devastated Ephteria's royal palace.
Thanh's new role as a diplomat places her once again in the path of her first love, the powerful and magnetic Eldris of Ephteria, who knows exactly what she wants: romance from Thanh and much more from Thanh's home. Eldris won't take no for an answer, on either front. But the fire that burned down one palace is tempting Thanh with the possibility of making her own dangerous decisions.
Can Thanh find the freedom to shape her country's fate―and her own?
Buy Fireheart Tiger by Aliette de Bodard.
City of the Uncommon Thief by Lynne Bertrand
Type: Novel
Publisher: Dutton Books for Young Readers
Release date: Feb. 9
Den of Geek says: This novel sits at the crossroads of fantasy, horror, and YA. A gothic city provides a pleasantly weird background to a dark adventure about teens who lurk on the rooftops of the city.
Publisher's Summary:
"Guilders work. Foundlings scrub the bogs. Needles bind. Swords tear. And men leave. There is nothing uncommon in this city. I hope Errol Thebes is dead. We both know he is safer that way."
In a walled city of a mile-high iron guild towers, many things are common knowledge: No book in any of the city's libraries reveals its place on a calendar or a map. No living beasts can be found within the city's walls. And no good comes to the guilder or foundling who trespasses too far from their labors. Even on the tower rooftops, where Errol Thebes and the rest of the city's teenagers pass a few short years under an open sky, no one truly believes anything uncommon is possible within the city walls. But one guildmaster has broken tradition to protect her child, and now the whole city faces an uncommon threat: a pair of black iron spikes that has the power of both sword and needle on the rib cages of men has gone missing, but the mayhem they cause rises everywhere. If the spikes are not found, no wall will be high enough to protect the city—or the world beyond it.  
And Errol Thebes? He's not dead and he's certainly not safe.
Buy City of the Uncommon Thief by Lynne Bertrand.
The Memory Theater by Karin Tidbeck
Type: Novel
Publisher: Pantheon
Release date: Feb. 16
Den of Geek says: Tidbeck is known for her strange and literary short stories, full of musing and teeth. Her take on portal fantasy is bound to bring something new to the subgenre.
Publisher's summary: From the award-winning author of Amatka and Jagannath—a fantastical tour de force about friendship, interdimensional theater, and a magical place where no one ages, except the young
In a world just parallel to ours exists a mystical realm known only as the Gardens. It's a place where feasts never end, games of croquet have devastating consequences, and teenagers are punished for growing up. For a select group of masters, it's a decadent paradise where time stands still. But for those who serve them, it's a slow torture where their lives can be ended in a blink. In a bid to escape before their youth betrays them, Dora and Thistle—best friends and confidants—set out on a remarkable journey through time and space. Traveling between their world and ours, they hunt for the one person who can grant them freedom. Along the way, they encounter a mysterious traveler who trades in favors and never forgets debts, a crossroads at the center of the universe, our own world on the brink of war, and a traveling troupe of actors with the ability to unlock the fabric of reality.
 
Endlessly inventive, The Memory Theater takes us to a wondrous place where destiny has yet to be written, life is a performance, and magic can erupt at any moment. It is Karin Tidbeck's most engrossing and irresistible tale yet.
Buy The Memory Theater by Karin Tidbeck.
Top New Fantasy Books January 2021
Across the Green Grass Fields by Seanan McGuire
Type: Novel
Publisher: Tordotcom
Release date: Jan. 12, 2021
Den of Geek says: McGuire's Wayward Children series is a loosely connected group of novels all playing with fantasy tropes. What does it really mean to be a chosen one in a magical world? In the latest installment she turns her careful wit to centaurs and unicorns.
Publisher's summary: "Welcome to the Hooflands. We're happy to have you, even if you being here means something's coming."
Regan loves, and is loved, though her school-friend situation has become complicated, of late.
When she suddenly finds herself thrust through a doorway that asks her to "Be Sure" before swallowing her whole, Regan must learn to live in a world filled with centaurs, kelpies, and other magical equines―a world that expects its human visitors to step up and be heroes.
But after embracing her time with the herd, Regan discovers that not all forms of heroism are equal, and not all quests are as they seem…
Buy Across the Green Grass Fields by Seanan McGuire.
The Ruthless Lady's Guide to Wizardry by C.M. Waggoner
Type: Novel
Publisher: Ace
Release date: Jan 12, 2021
Den of Geek says: Romance and magic come together in what looks like a fun tale with a wide variety of characters. The roguish setting reminds us of The Lies of Locke Lamora with more women.
Publisher's summary: Dellaria Wells, petty con artist, occasional thief, and partly educated fire witch, is behind on her rent in the city of Leiscourt—again. Then she sees the "wanted" sign, seeking Female Persons, of Martial or Magical ability, to guard a Lady of some Importance, prior to the celebration of her Marriage. Delly fast-talks her way into the job and joins a team of highly peculiar women tasked with protecting their wealthy charge from unknown assassins.
 
Delly quickly sets her sights on one of her companions, the confident and well-bred Winn Cynallum. The job looks like nothing but romance and easy money until things take a deadly (and undead) turn. With the help of a bird-loving necromancer, a shapeshifting schoolgirl, and an ill-tempered reanimated mouse named Buttons, Delly and Winn are determined to get the best of an adversary who wields a twisted magic and has friends in the highest of places.
Buy The Ruthless Lady's Guide to Wizardry by C.M. Waggoner.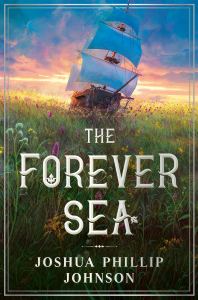 The Forever Sea by Joshua Phillip Johnson
Type: Novel
Publisher: DAW
Release date: Jan. 19
Den of Geek says: A gorgeous and mysterious fantasy world is ready to unfold. The world-building here looks delightfully weird, with sailing ships on fields of greenery.
Publisher's Summary: On the never-ending, miles-high expanse of prairie grasses known as the Forever Sea, Kindred Greyreach, hearthfire keeper and sailor aboard harvesting vessel The Errant, is just beginning to fit in with the crew of her new ship when she receives devastating news. Her grandmother—The Marchess, legendary captain and hearthfire keeper—has stepped from her vessel and disappeared into the sea.
But the note she leaves Kindred suggests this was not an act of suicide. Something waits in the depths, and the Marchess has set out to find it.
To follow in her grandmother's footsteps, Kindred must embroil herself in conflicts bigger than she could imagine: a water war simmering below the surface of two cultures; the politics of a mythic pirate city floating beyond the edges of safe seas; battles against beasts of the deep, driven to the brink of madness; and the elusive promise of a world below the waves. 
Kindred finds that she will sacrifice almost everything—ship, crew, and a life sailing in the sun—to discover the truth of the darkness that waits below the Forever Sea.
Subscribe to Den of Geek magazine for FREE right here!
(function() { var qs,js,q,s,d=document, gi=d.getElementById, ce=d.createElement, gt=d.getElementsByTagName, id="typef_orm", b="https://embed.typeform.com/"; if(!gi.call(d,id)) { js=ce.call(d,"script"); js.id=id; js.src=b+"embed.js"; q=gt.call(d,"script")[0]; q.parentNode.insertBefore(js,q) } })()