Training Day is one of the archetypal crime dramas of its time. It features a classic standoff between a young, fresh-off-the-street rookie police officer named Jake Hoyt (Ethan Hawke) and his veteran partner Alonzo Harris (Denzel Washington). The older cop is ostensibly evaluating his young partner, but in actuality he's breaking Jake hm down and trying to corrupt him–just as Alonzo himself, one of the great screen monsters of the past 20 years, is corrupt beyond all redemption. Here is a supposed officer of the law who acts more like a crime boss, ruling over his neighborhood with an iron fist.
The tension that burns at the center of the movie–will Jake be turned and will Alonzo get his comeuppance?–forms the bedrock of a classic dramatic scenario. The power inherent from being in law enforcement can be both a force for good and a weapon of evil. The ability to wield that power over the lives of so many others can lead anyone or any institution to a moral crossroads. And whether a single cop or an entire police force can stand up for what's right or descend into a cesspool of rot and amorality has been the basis of some of our greatest movies.
This is by no means a comprehensive list, but if you've recently had a chance to revisit Training Day on Netflix, then here are five more superb movies in which a lone cop goes head to head with that insidious corruption. All the movies feature drugs, guns, money, and sometimes sex; but in the end, the most powerful and dangerous narcotic of all turns out to be power.
Serpico (1973)
Legendary director Sidney Lumet's classic 1970s police drama was one of several films that established Al Pacino as among the greatest actors of his generation, and kicked off a loose trilogy of movies from Lumet himself that focused on police corruption in New York City–others being the less iconic but equally brilliant Prince of the City (1981) and Q&A (1990).
Serpico is also the only film on this list based on a real person: Frank Serpico, a plainclothes detective who uncovered widespread corruption and eventually blew the whistle on it during his 11 years of service. In keeping with the true-life inspiration for the story, Lumet shot the film in a documentary-like style and chose some of the grittiest locations in New York City in which to work. Pacino himself met with Serpico several times, immersing himself in the character and his life.
The result was one of the first major American movies to tackle real life police corruption head-on, and what's frightening is that there is no single villain for Serpico to go up against: it's the entire NYPD itself, which came under extensive investigation thanks to the real Serpico's actions.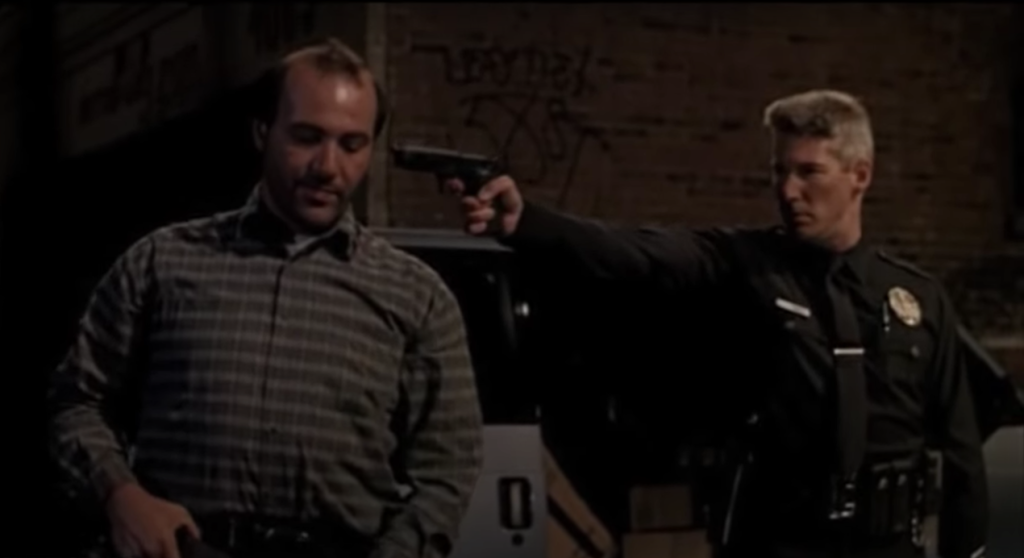 Internal Affairs (1990)
Richard Gere stars in this Mike Figgis-directed film as Dennis Peck, a corrupt Los Angeles police officer and womanizer who comes under investigation by Raymond Avilla (Andy Garcia), an Internal Affairs officer intent on taking down Peck even as the department around him portrays him as a role model. But the wily Peck has other plans, including turning Avilla and his wife (Nancy Travis) against each other.
Set in pretty much the opposite of Serpico's rough NYC environs, Internal Affairs, as its punning title indicates, is less about widespread systemic corruption and more about ideas of masculinity. Gere's charm and sex appeal is put to wicked use as Peck fucks or threatens to fuck the wife of every man he crosses paths with, using that as a weapon to undermine them as men and leverage his power over them. Using his family as cover for his nefarious deeds–he has three ex-wives and eight kids to support–puts a dark twist on the idea of the male as the head of the household.
Garcia's Avilla is flawed as well, racked with jealousy and anger management issues, which gives what could have been just a sleazy potboiler an extra level of complexity. And no amount of ravishing L.A. locations will wipe away the slime at the heart of this low-key thriller.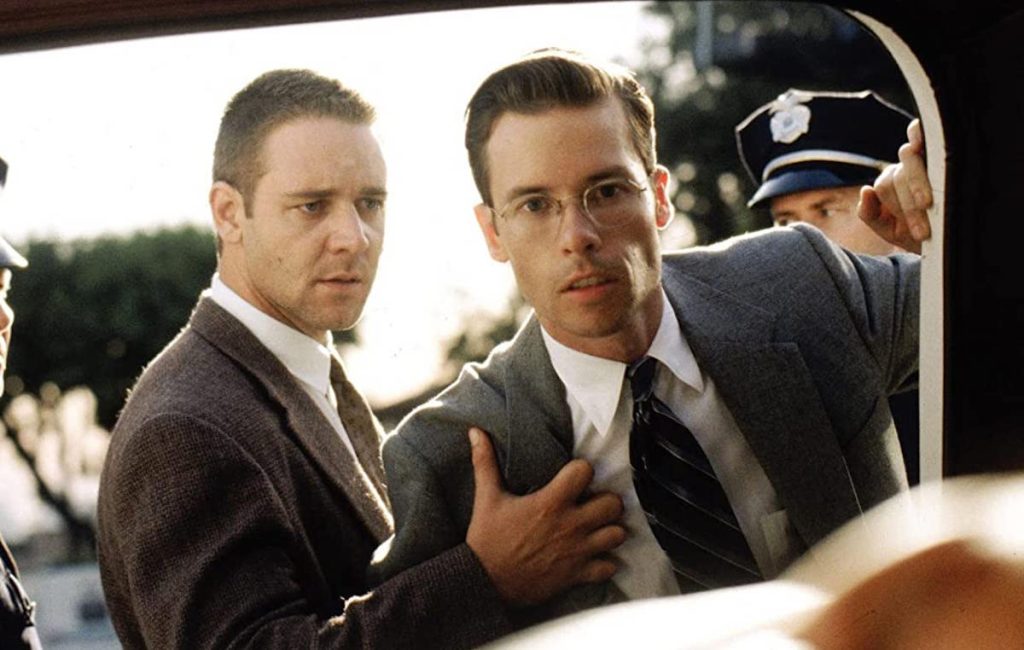 L.A. Confidential (1997)
The late Curtis Hanson's masterful adaptation (with co-writer Brian Helgeland) of James Ellroy's novel remains one of the best films of the 1990s, mixing fictionalized versions of real-life figures with indelible characters in a complex, suspenseful, and epic tale of police corruption and Hollywood celebrity.
The two cops at the center of the story are LAPD Sgt. Ed Exley (Guy Pearce) and officer Bud White (Russell Crowe); the former is upstanding yet aggressively ambitious while the latter is a blunt weapon used–unknowingly at first–by precinct captain Dudley Smith (James Cromwell) to advance Smith's own ends. Also in the mix are a high-end prostitute (Kim Basinger), a jaded detective (Kevin Spacey), and a tabloid magazine editor (Danny DeVito), all of whom are caught in the LAPD's web of corruption.
L.A. Confidential builds its story brilliantly to an explosive third-act confrontation between White and Exley that gives way to an even more thrilling motel shoot-out at the film's climax. Relatively unknown at the time, Crowe and Pearce are outstanding while Basinger shines in a career-peak performance. L.A. Confidential takes the "cop vs. cop" scenario and drenches it in neo-noir style and Tinseltown sleaze, creating an unforgettable portrait of power gone mad.
Cop Land (1997)
An early drama from writer/director James Mangold–now known for films like Logan and Ford v. Ferrari—Cop Land stars Sylvester Stallone as Freddy Heflin, the sheriff of a small New Jersey town that is a bedroom community for a number of New York City cops. Although Freddy, who is partially deaf and perceived as somewhat slow-witted, reveres the cops and aspired at one time to be an NYPD officer himself, he becomes gradually aware of the rampant corruption among them. Eventually he must act.
Stallone put on 40 pounds for the role of Heflin and his performance cast him in a new light as a serious actor after years of mindless action vehicles or Rocky sequels. Mangold's screenplay may be too overly complicated for its own good, but the lonely small-town cop making a stand against the men he once looked up to is a poignant, haunting image. The film is also bolstered by great work from an all-star cast that includes Robert De Niro, Harvey Keitel, Ray Liotta, Robert Patrick, and Annabella Sciorra.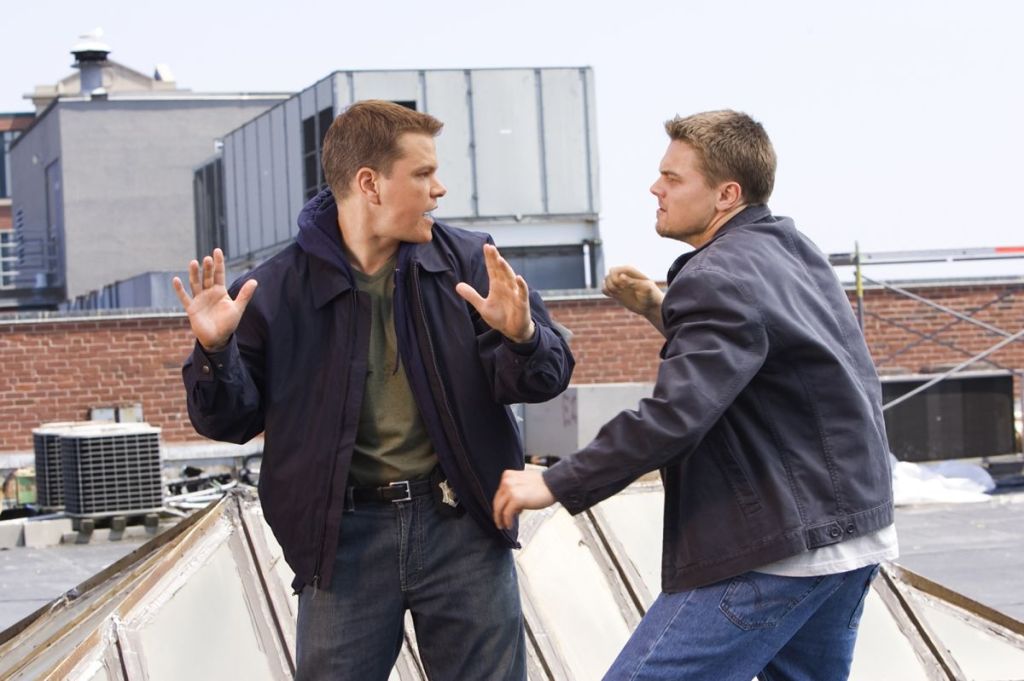 The Departed (2006)
Based on the 2002 Hong Kong film Infernal Affairs, The Departed is an operatic, grand crime thriller as only the great Martin Scorsese can do it. Leonardo DiCaprio stars as Billy Costigan Jr., a Massachusetts State Police recruit forced to go undercover and infiltrate the gang of crime boss Frank Costello (an over-the-top Jack Nicholson). Meanwhile another State Police officer, Colin Sullivan (Matt Damon), is actually a mole for Costello inside the force, and the machinations of both Costello and the police eventually pull the two undercover agents–one good but troubled, one corrupt–into each other's orbit.
Loosely inspired by real-life figures like corrupt FBI agent John Connolly and Boston crime kingpin Whitey Bulger, The Departed has more twists than a winding mountain road and all the double-crosses and betrayals can be tricky to navigate, even for fans of the Hong Kong movie it dramatically remakes, Infernal Affairs.
But Scorsese's expertise with this kind of material leaps off the screen and his cast is impeccable (including a career-best performance from Mark Wahlberg and a scene-stealing turn by Alec Baldwin). While it can be a little on-the-nose at times–we're looking at you, Mr. Rat on the apartment terrace–The Departed nevertheless conveys its cynical view of human nature with style, wit and manic energy. As it turns out, we're all basically fucked up and vulnerable to being fucked with.