Most early photographs look haunted. Perhaps it's because we view these images with the knowledge that the people inside them are already ghosts. In some early photos the subject had actually already expired at the time of their capture. Photography was expensive and the first and best occasion for many families to pay for a portrait was recently after a loved one died.
But some old timey photos are just ineffably creepy beyond any easy explanation. Consider this snapshot of a surgical operating theater in 1890.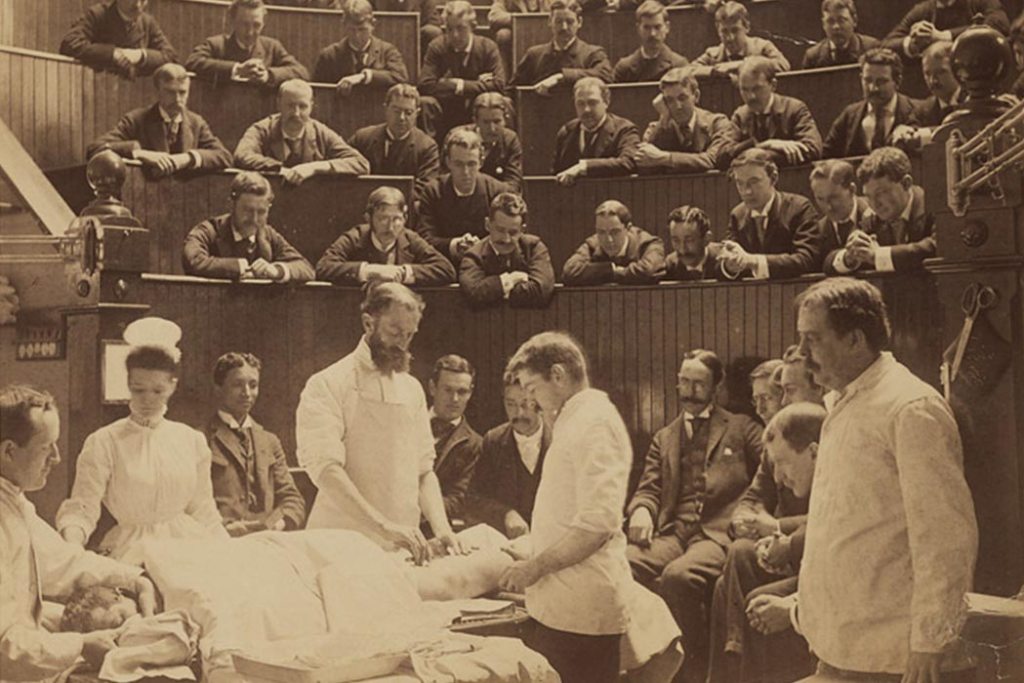 The experience of seeing primitive surgeons dressed in angelic white, surrounded by seats of mustachioed men wearing their Sunday best and staring down at a lifeless body is so intensely bizarre. Photos like this are dripping with a grim atmosphere that very few documents or art can really capture. One recent entry into the prestige TV canon, however, did a shockingly good job of recreating that eerie sensation and maintaining it over two full seasons.
Both seasons of Cinemax's The Knick are now available to stream on HBO Max. Cinemax may no longer be in the original content business, but some of its better shows are finally, thankfully making their way to the WarnerMedia streaming venture. In addition to The Knick other recent Cinemax titles arriving to HBO Max include Banshee and Warrior. All three are superb shows and worth checking out, but let us highlight The Knick in particular as one of recent television history's most underappreciated gems.
The Knick is quite simply one of the most stylish and atmospheric TV shows ever made. Premiering in 2014, it is set in a fictionalized version of the real Knickerbocker Hospital (a.k.a "The Knick") which was located in Harlem at the turn of the 19th century. The series begins in 1900 and follows Clive Owen's Dr. John W. "Thack" Thackery, the chief surgeon at The Knick, as he runs the hospital while barely controlling his addiction to injecting cocaine. Other cast members include André Holland as new assistant chief surgeon Dr. Algernon Edwards, Jeremy Bobb as hospital manager Herman Barrow, and Eve Hewson as nurse Lucy Elkins.
The plotting on The Knick from creators and head writers Jack Amiel & Michael Beglerare is tight and effective. The show capably balances multiple story threads at once, from the series- long arc of Thack's drug abuse and addiction to season-long arcs about infectious diseases spreading throughout New York to episode-long stories presenting patients simply in need of help. 
But what sets The Knick apart from fellow medical dramas (and just about everything else) is the imagery involved and the tone it invokes. Watching The Knick is like staring at the uncanny oddness of that old operating theater photo until the people within it start to move around and vacuum blood out of a patient's open abdomen. 
Television has always been seen as a writers' medium, with the head writer on many shows often serving as de facto "showrunner" and maintaining the visual style. The Knick, however, benefits greatly from the involvement of filmmaker Steven Soderbergh, who produces and directs every episode. Soderbergh's cameras, era-authentic gaslamp lighting, and superb production design all conspire to create one hell of a visual mood. That's not even to mention Cliff Martinez's excellent, synth-heavy score, which one would be forgiven for thinking is the work of Trent Reznor and Atticus Ross. Just about every scene sounds like a tense mission leading up to a boss battle in an NES game. 
Thack and his fellow doctors Bertram "Bertie" Chickering (Michael Angarano) and Everett Gallinger (Eric Johnson) are fond of calling the Knick their "circus." And like any circus, The Knick is only as good as its performers. Thankfully the doctors, nurses, administrators are all more than up to the task. 
Despite being only six years old now, The Knick has proven to be quite an acting talent factory. The series was Hewson's first TV role and the Irish actress is now on her way to modest stardom thanks to roles in The Luminaries and Behind Her Eyes. Jeremy Bobb has since turned up in everything, including Russian Doll, Jessica Jones, and The Outsider. Chris Sullivan, who plays ambulance operator Tom Cleary now plays Toby on This Is Us. And Juliet Rylance portrays Della Street on Perry Mason. 
Meanwhile, Owen is a perfect fit as Thack. The actor seems to relish hiding his handsome movie star features behind sweat, matted hair, and a thin mustache. The effect makes Thack physically resemble some kind of familiar early 1900s pugilist archetype more than a Hollywood leading man. The lifelike performance flows out from there.
Holland as a talented Black surgeon extremely unwelcome in a white hospital is also superb. The actor has racked up award nominations for Selma and Moonlight, but he's never seemed like a more capable protagonist than he does in The Knick, even if his character isn't technically the lead. 
It does at times feel as though this is really Edwards' story. Which makes sense, given that the most attention is frequently paid to him as a perceived trespasser in a white world. Also: it probably goes without saying, but one should know before watching that The Knick pulls absolutely no punches in its depiction of early 20th century racism. It's admirably honest storytelling about the time period but it's also just brutal to sit through. One season 2 plotline even involves a central character becoming a full-on eugenicist. 
Thought that understandably all sounds quite bleak, The Knick isn't just all crushingly real depictions of racism, gore, and nifty camerawork. The show fills an important prestige TV quotient by frequently bringing something new to the table. In the absurdly crowded TV landscape, oftentimes the best thing any show can do is to present something to the audience that they've never seen before. The Knick has many such moments…unless you've somehow seen someone inject cocaine into Clive Owen's penis before. The series also has one of the wildest series finale of all time. The finale of season 2 (which wasn't necessarily a series finale at the time) features one moment that should take even the most veteran drama watcher by surprise. 
The show has some sturdy themes to go along with the stylish flourishes and surprising storytelling. In the series first episode, Thack describes what is simultaneously appealing and devastating about healthcare to him, saying: "God always wins. It's the longest unbeaten streak in the history of the world." 
There is nothing that any doctor or surgeon can do to stop death. The best they can hope to do is forestall it's arrival. Thack and the doctors at the Knick have done the best they can in this mission. When Thack proudly announces that life expectancy has gone from 39 to 47 in the past 20 years, it's a darkly funny moment to the modern viewer. But any small medical advancement or deeper understanding of the human body always feels like a sincere victory throughout The Knick – particularly because we see the very literal blood, swat, and tears it takes to achieve them. These drug-addicted surgeons and frightened, shivering patients are indeed ghosts from an stained old-timey photo of an operating theater. They're also people. And that's something that the show is able to capture in addition to capturing all the terrifying gore of 20th century medicine. 
Back in September of 2020, Soderbergh revealed that he and producer Barry Jenkins were planning to go through with The Knick season 3, with a pilot script having been written. Given that the Hollywood landscape is particularly turbulent at the moment, who knows if that script will ever find a home. Whether or not The Knick gets a third season, its first two will fit in quite comfortably alongside the greats in its new HBO Max home for years to come.