The new and official trailer for "the Snyder Cut" of Zack Snyder's Justice League landed last weekend. And while it showed off a ton of new footage, including a brand new Steppenwolf design and our best looks yet at other evil denizens of Apokolips like Darkseid, Desaad, and Granny Goodness, it didn't quite solve all the mysteries or reveal all the surprises still waiting in the new film. Fans will continue to have to wonder whether a human Green Lantern will make an appearance for a little longer, and there was no footage of Martian Manhunter.
But a new Justice League #59 variant cover from DC Comics, with art by none other than Jim Lee, seems to have given us our first full look at what J'onn J'onnz, the Martian Manhunter, will look like in the movie. Director Zack Snyder has long confirmed that Martian Manhunter was always intended to appear in his Justice League movie, and that the character had technically already made an appearance. Snyder's plan had always been for General Calvin Swanwick (played by Harry Lennix and first introduced in Man of Steel) to be revealed as the Martian Manhunter in disguise.
In 2019, Snyder revealed via storyboards that a visit from Martha Kent to Lois Lane would in fact have been from Martian Manhunter/General Swanwick. We're finally going to get that moment on screen in Zack Snyder's Justice League.
"I found out that it was a possibility, or at least that Martian Manhunter was going to be in it, when [Snyder] revealed through the storyboard that Martha Kent is coming by visiting Lois, and then after she leaves, she reveals herself to be, in fact, Calvin Swanwick, or the Martian Manhunter," Lennix told Variety in a recent interview.
And yet despite all these hints, what Martian Manhunter's final form on screen is has remained a mystery. That may have just changed though thanks to DC Publisher and Chief Creative Officer Jim Lee, with his art gracing one of three variant covers for March's Justice League #59, each with a Snyder Cut theme.
Lee's cover art features DCEU-accurate depictions of Wonder Woman and Aquaman…and a very alien looking Martian Manhunter. Considering that each of the other two variants by Lee Bermejo and Liam Sharp also spotlight characters and designs that are unique to the Snyder Cut (Bermejo's has the black suit Superman and Darkseid, while Sharp's showcases the new look for Steppenwolf), it's safe to assume that Lee's Martian Manhunter is close to what we'll see on screen in the film. Check it out…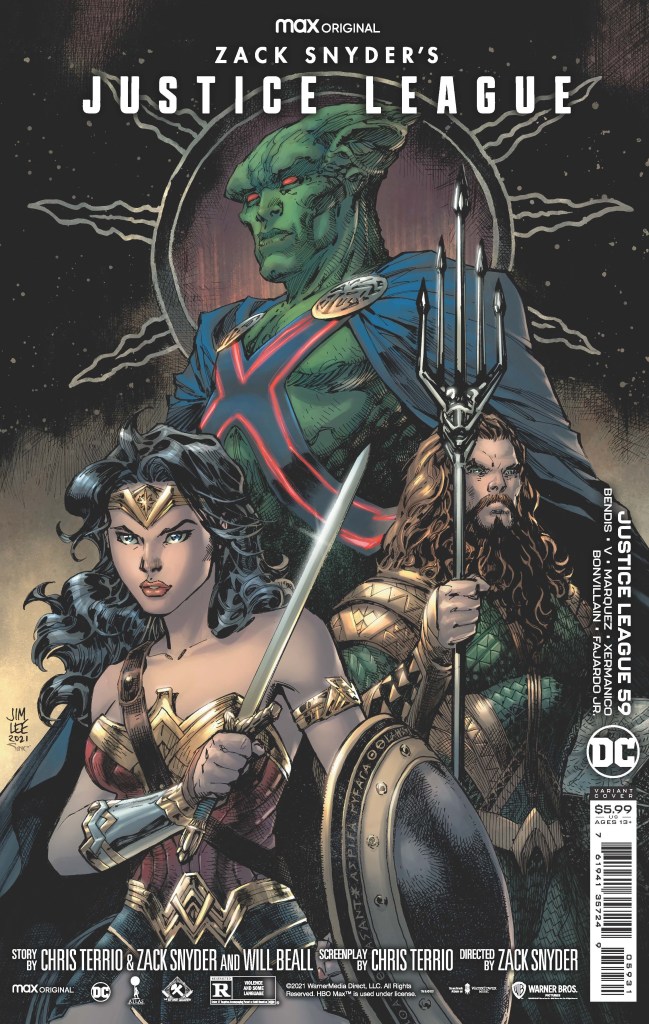 Don't expect too much Martian Manhunter in the movie, though.
"I don't know what's going to be left on the floor, if any, but I didn't shoot an inordinate amount," Lennix said. "My work is not central, as it were, to the movie. It may be to a plot point. But I don't think you'll start talking about that character more than, say, Superman."
Zack Snyder's Justice League arrives on HBO Max on March 18. Justice League #59, which kicks off an all-new era for the team under the creative stewardship of Brian Michael Bendis and David Marquez, hits on March 16.
Here's the official synopsis for the film…
"In Zack Snyder's Justice League, determined to ensure Superman's (Henry Cavill) ultimate sacrifice was not in vain, Bruce Wayne (Ben Affleck) aligns forces with Diana Prince (Gal Gadot) with plans to recruit a team of metahumans to protect the world from an approaching threat of catastrophic proportions. The task proves more difficult than Bruce imagined, as each of the recruits must face the demons of their own pasts to transcend that which has held them back, allowing them to come together, finally forming an unprecedented league of heroes. Now united, Batman (Affleck), Wonder Woman (Gadot), Aquaman (Jason Momoa), Cyborg (Ray Fisher) and The Flash (Ezra Miller) may be too late to save the planet from Steppenwolf, DeSaad and Darkseid and their dreadful intentions."
And here's the official synopsis for Justice League #59…
"In Justice League #59, Bendis reunites with artist David Marquez (Miles Morales, Iron Man, Batman/Superman) for a new, star-studded Justice League featuring Superman, Batman, the Flash, Hawkgirl, Aquaman, Hippolyta, new DC powerhouse Naomi, and Black Adam. Superman is leading the charge to reinvent the Justice League—and at the same time, a new, cosmic-powered threat arrives from Naomi's home world to rule the Earth! And in the backup story by Ram V and Xermanico, dark days lie ahead for the new Justice League Dark. Zatanna and John Constantine take a road trip, only to discover horror around the bend as a friend—and sometime foe—is reborn in fire! A legend is destroyed, and another takes a terrible turn, as Merlin reveals the beginning of a new, blood-drenched plot for all humankind."