Shadow and Bone, the Netflix series adapted from Leigh Bardugo's gorgeous Grishaverse series, isn't just a straight adaptation of the book that shares its name. In addition to the Shadow and Bone trilogy, the series will also be adapting Six of Crows, a duology set in the same world. It's an ambitious choice, given that Six of Crows takes place after the events of Shadow and Bone, but it's a smart one. The addictive heist drama of Six of Crows brings a different and complementary energy to the dark, fantastical world readers are introduced to in Shadow and Bone. If showrunner Eric Heisserer (Bird Box) can effectively integrate the Six of Crows characters into Shadow and Bone, then both book fans and those unfamiliar with the source material alike are in for a treat. But what will the incorporation of these two separate-though-related series look like?
"It wasn't easy!" book author and series executive producer Leigh Bardugo said in a Netflix interview released in December. "Eric took two fantasy series — with powers and creatures and horrors and heists — and molded them into this cohesive, incredible thing. I don't think I could've been more lucky in the person that we found to hand the keys over to. It wasn't just the keys to a book or one series, it was a whole world I had been working on for the better part of my career. I didn't do it lightly. I trusted him and I was right to trust him."
"What Leigh and I had to do," said Heisserer in the same interview, "was essentially invent prequel stories for the key Six of Crows characters this season — Kaz, Inej, and Jesper — to fit alongside what is happening in the Shadow and Bone storyline. That's been the heavy lifting."
Netflix just released our first look at the Six of Crows crew in the Shadow and Bone TV series. You can see gunslinger Jesper (Kit Young), assassin Inej (Amita Suman), and mastermind Kaz (Freddy Carter) in the featured image above.
"We pitched [this storyline] as 'Ocean's Eleven meets Game of Thrones,'" Heisserer told EW of bringing the Six of Crows gang into Shadow and Bone. Describing the featured image above, Heisserer said: "These are three of our Crows, a criminal element who have a mission all their own. How it dovetails in with the [Grisha trilogy] storyline I hope will be very exciting for our fans."
We also just got our first look at Six of Crows' spy Nina and witchhunter Matthais, played by Danielle Galligan and Calahan Skogman, respectively. (Netflix has yet to announce casting for Six of Crows' Wylan Van Eck.) Given that Nina and Matthias are in their own photo in a very different setting, it seems like we might be meeting these characters before they first meet up with Jesper, Inej, and Kaz.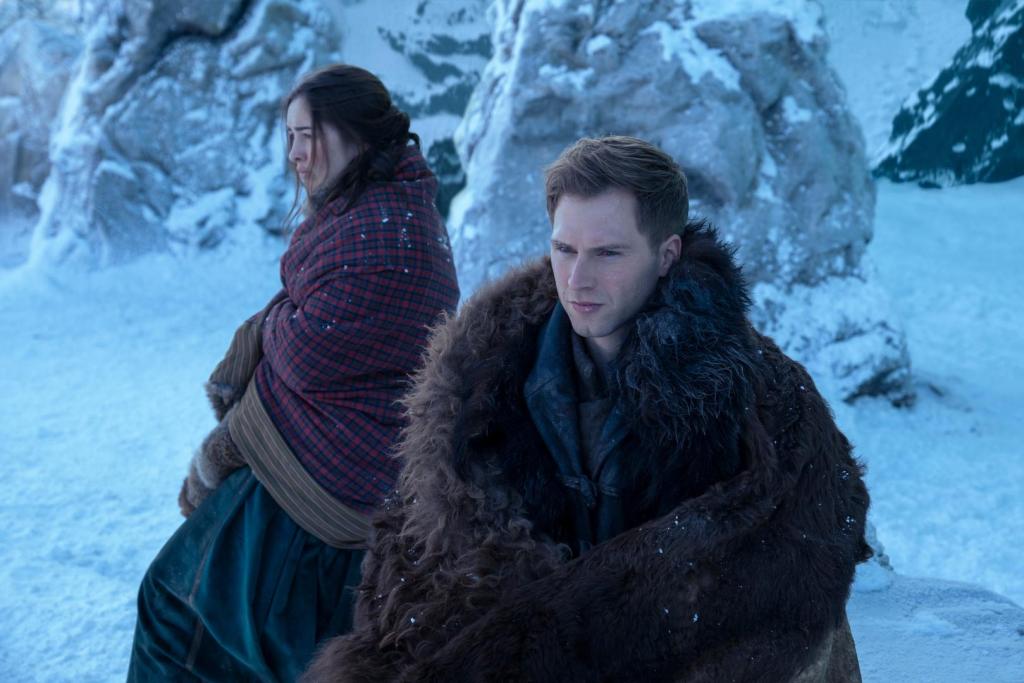 "We've taken the stories of Shadow and Bone and the characters of Six of Crows and we've brought them together in what I think will be a really unexpected way," said Bardugo in that same Netflix interview. "Eric and our writers' room and our directors have built something entirely new that still somehow stays true to the characters and to the heart of the stories."
For readers who aren't familiar with the books, both the Shadow and Bone series and the Six of Crow series are set in an alternate fantasy world called Grisha that is inspired by Imperial Russia. Bardugo wrote the Shadow of Bone series (which starts with Shadow and Bones, and continues with Siege and Storm and Ruin and Rising) first. It follows Alina, a war orphan turned soldier who discovers a latent magical power that could save her world from the dark, ever-encroaching monsters of the Shadow Fold. Six of Crows (which starts with Six of Crows and continues with Crooked Kingdom) follows a crew of thieves and mercenaries as they attempt to pull off a heist that would set them up for life.
While it may be hard for fans of Six of Crows, of which there are many, to wait for the events of the duology to play out on screen, Heisserer teased that we may get to see some character meetings that don't happen in the books because they're set on different timelines happen in the series, adding: "They happen in the show, and I believe those moments are meaningful."
Presumably, we are going to get to know the Six of Crows gang mostly before the events of Six of Crows, but there's also a chance the Netflix series could try to pull forward some of the events of Six of Crows in some way. That being said, Netflix is no doubt looking to create many seasons of Shadow and Bone, so it would be smart to save the main action of Six of Crows for later in the series' run.
Speaking about the Six of Crows crew in the context of the Netflix series, Bardugo described them as "the team of thugs and thieves who are about to cause some very big trouble for everyone involved." Whatever their role, I'm just happy the Six of Crows crew will be involved.
The eight-episode Shadow and Bone first season will drop on Netflix on April 23rd.