This article contains spoilers for WandaVision episode 3.
In case you thought WandaVision's sitcom homages were a passing fad, episode 3 "Now in Color" makes clear that the influences are here to stay…for now at least. Just as episodes 1 and 2 drew inspiration from The Dick Van Dyke Show, Bewitched, and I Dream of Jeannie, so too does this third installment honor some classic TV series. Rather than hanging around the '50s or '60s, however, this episode bumps WandaVision up to gorgeous '70s technicolor.
In speaking to reporters prior to the series premiere, director Matt Shakman revealed that the show fully intended on progressing through decades of sitcoms, saying:
"We wanted to be as authentic as possible – production design, cinematography, costuming, everything was about going on this deep dive and with the actors we all wanted to do the same thing. We watched a ton of old television episodes, talked about how comedy changes, you know, because it really does. The approach to comedy in the 50s, 60s, 70s is really different."
Now that we're officially the '70s era, let's look into what sitcoms WandaVision is honoring. 
The Brady Bunch 
You may notice WandaVision is missing one very important element of The Brady Bunch…and that's the aforementioned "Bunch" in the title. Much of the appeal of Sherwood Schwartz's classic sitcom was the size of its cast and their chemistry with one another. As anyone who has listened to the show's catchy theme song can tell you, The Brady Bunch is the story of a lovely lady who was bringing up three very lovely girls and also of a man named Brady who was busy with three boys of his own. When Mike and Carol Brady combine their households, their iconic ranch style home houses nine residents (including the much-needed maid, Alice). 
Even with the addition of newborns Billy and Tommy, Wanda and Vision are well short of the Bradys' brood. Still, despite the Maximoff-Vision's smaller family, this episode is positively steeped in Brady Bunch imagery. That's likely because it was time for WandaVision to present a '70s sitcom aesthetic and there is quite simply no more iconic '70s sitcom than The Brady Bunch. Wanda and Vision's new house is distinctly Brady Brunch, right down to the iconic wide wooden staircase. Wanda's groovy dress is reminiscent of some Marcia Brady fits in the latter years of the show. Then there's the fact that this episode even gets a Brady style theme song all about family from composers Kristen Anderson-Lopez and Bobby Lopez. The lyrics to which are:
"Buh buh buh buh WandaVision. / We got something cooking and it's looking good! We got something cooking like we knew we could. / All great expectations lead to complications. / That's goofy and fun (EDITOR'S NOTE: Actual lyrics unclear) it's me and it's you. / Together one plus one is more than two./  Some sudden surprises come in all shapes and sizes. / But it's rainbow and sun. It's you and it's me. / One plus one is family."
This episode's opening credits title card arranges images of Wanda and Vision in a 3×3 grid, just like the Bradys.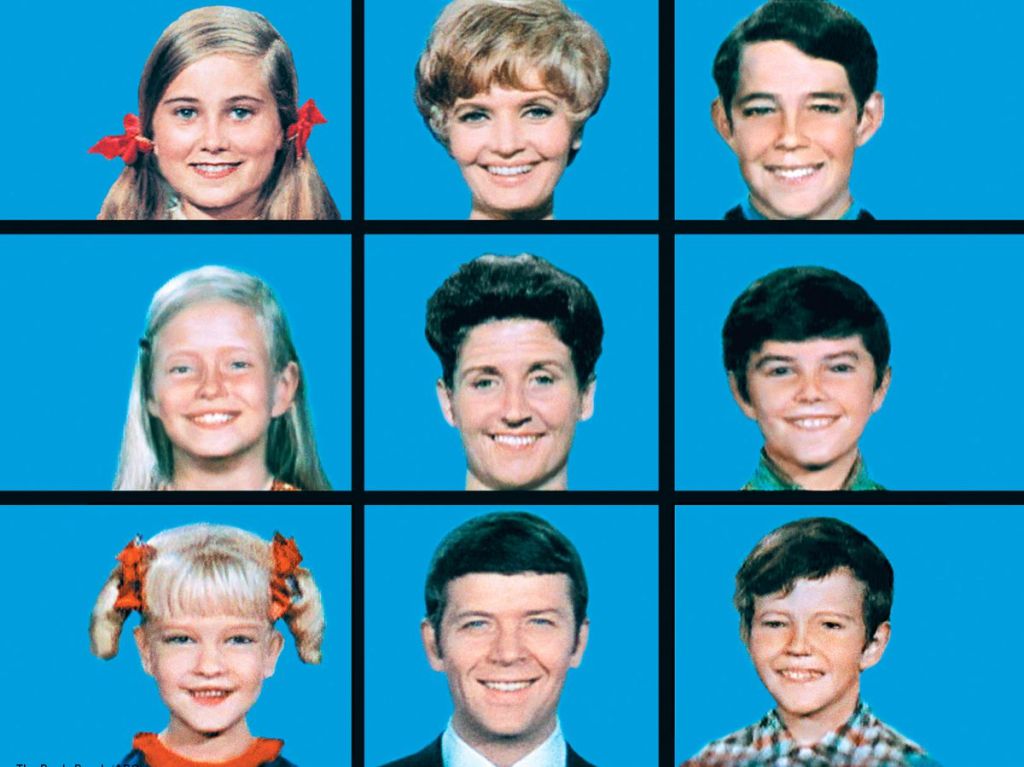 The main thrust of this episode is the very rapid progression of Wanda's pregnancy with little Billy and Tommy. It's a good thing then that WandaVision moves the setting to the '70s, as such a plotline would not have fit in with the '50s sitcom aesthetic. 
Believe it or not, television sitcoms tried not to acknowledge the existence of pregnancy until 1952 when Lucille Ball's I Love Lucy character Lucy Arnaz became the most notable depiction of pregnancy on television yet. (1948's shockingly progressive for its time Mary Kay and Johnny was both the first show to depict a woman's pregnancy and even feature a married couple sharing a bed). 
Ball was noticeably pregnant during portions of the show's first season but her character was, ridiculously, not acknowledged to be with child. When Ball was pregnant during filming of the second season, she and the producers decided to write her experience in. Even then, however, CBS executives balked at the idea of the word "pregnant" even being uttered during the episode. You see, the concept of pregnancy hints at the concept of sexual intercourse, and if such a thing had made it to network television, then the Communists would have won.
Since then, sitcoms have obviously had no problem writing real life actress's pregnancies into their characters' arcs. Occasionally though, shows will try to go the I Love Lucy season 1 route and white knuckle their way through an actress's pregnancy while maintaining that her character is not. The "Hide Your Pregnancy" TV trope has turned up on series like 24, The Big Bang Theory, Friends, and more. Characters hiding an actress's pregnancy will often be depicted wearing loose, baggy clothing, or even having their stomachs positioned behind countertops, chairs, or other scenery censors. When January Jones was pregnant during season 5 of Mad Men, the writers decided to just give her character a food addiction and become overweight. 
It's very possible that WandaVision could be acknowledging this strange television tradition when Wanda attempts to hide her pregnancy from Geraldine merely by holding a bowl of fruit in front of her stomach. That act of scenery censorship is no less ridiculous than Betty Draper's sudden gluttony. 
The Monkees
At the conclusion of this episode, the camera aspect ratio moves from fullscreen to widescreen as Geraldine exits Wanda and Vision's artificial world and enters into what appears to be the real one. The song playing during this moment is a hauntingly echoey rendition of The Monkees "Daydream Believer." 
Not only are the song's vibe and lyrics apt for this unmooring moment, but so is its origin. The Brady Bunch may be the main aesthetic inspiration for this episode, but the use of a Monkees song at its conclusion is a nod to this era of television as well. Much of what we aesthetically view as the '70s could be more accurately be stated as "the mid '60s through the mid '70s." Airing from 1966-1968, The Monkees was still very much an era contemporary of The Brady Bunch's 1969 – 1974 run.
The Monkees was also an unusually ambitious endeavor for its time of television. The story of four young men trying to make a name for themselves in the rock game would only work if said four young men actually had the talent to do so both on and off camera. The Monkees, the band, and The Monkees, the TV show, almost operated within a grey area between cultural realities. How fitting it is then for them to score WandaVision's transition from fullscreen to widescreen.